Growing Your Traffic With A Google Knowledge Graph
Google Knowledge Graph Entry Update
The Knowledge Graph is a massive database of information that is used by Google to deliver users better organic search results. The intent of this system is to provide users with quick answers that they might be seeking based on their queries instead of just providing links to external pages. Example of a Google Knowledge Graph on a search results page: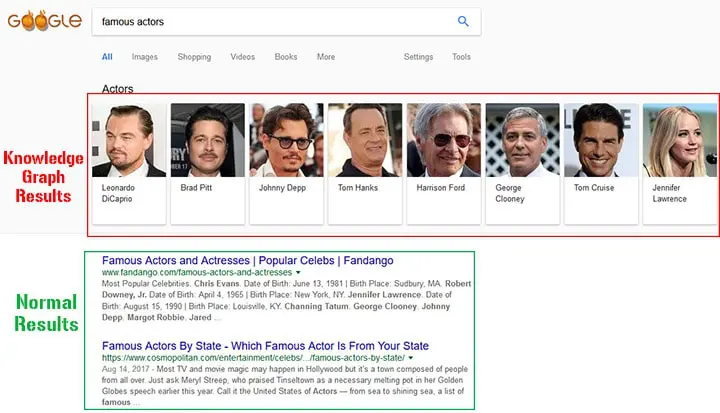 Importance of A Google Knowledge Graph
Getting your information into the database of the Knowledge Graph can help Google understand who you are and who your business is connected to. But more importantly, utilizing the knowledge graph for your business can be a significant step in driving more traffic to your website. It also makes your business look legitimate among the rest. Below, is an example of the growth seen by a business who took full advantage of the power of Google's Knowledge Graph in 2015:

Significance of Having a Wikipedia Page in Getting A Knowledge Graph
Although it is not 100% clear what the criteria are for attaining a Knowledge Graph, having a Wikipedia page is a significant factor in this consideration. This could be because Wikipedia.org is the 5th most visited domain throughout the web and sees nearly 3,000 visitors every second to any one of its 5.6 million articles on the English version alone. Or maybe Wikipedia is important because it is the go-to website for information and shows up close to the top of search results across many queries as it has established a history of extremely high domain authority.
In either case, Wikipedia is a website that gets over 400 million monthly visitors and has established itself as a central pillar in the current structure of the web. Having an article on this site can help you or your business should be included in the marketing strategy for your business.
Why Pay Someone Else to Build Your Wikipedia Page?
It is completely free to edit or create a Wikipedia page – you don't even need an account. However, the guidelines for editing/creating have become increasingly difficult to satisfy over the years and now pose a great challenge for anyone trying to create a page for the first time.
All Wikipedia guidelines for content must be followed. These include suggestions such as:
The language and style of writing must fit that which is seen in encyclopedias.
The notability of the subject matter must be significant enough to find reliable, third-party sources about the topic. Furthermore, the guidelines for notability are specific to each subject and include different rulesets for topics such as: academics, astronomical objects, books, events, films, geographic features,
The sourcing of facts, allegations, or ideas used on Wikipedia must be verifiable and published by reliable sources. These sources must be secondary and cannot include any primary sources that were written by you. Additionally, writing anything that goes beyond the ideas from the cited sources can get your page removed.
Content must always be written from a neutral point of view.
Content cannot be plagiarized or copied from the sources being used.
Content for Wikipedia must have the same core ideas as the sources it is citing from without copying the original material or adding any additional thoughts of your own. This style of writing must come from your own words, maintain a neutral tone, and be supported by secondary sources that are reliable and verifiable.
Juggling all of these guidelines can be a daunting task for anyone who is unfamiliar with the process. If you want a Knowledge Graph but feel that your time is better spent focusing on your business rather than writing an awesome Wikipedia article, then give us a call at CaliNetworks (805) 409-7700.