PPC-Pay Per Click
Advertising​
Search Engine Marketing (SEM) advertising plays a critical role in today's business of digital marketing. Pay-Per-Click (PPC) campaigns give you the opportunity to pay for your advertisements to show up at the top search results and can yield an incredibly high return on your investment when utilized effectively. Our PPC team has over 15 years of experience designing efficient ad campaigns. We are a Google Partner qualified by the Google Partners certification program.
All of our accounts are optimized by Google Ads Certified Professionals and are highly successful at achieving the desired results within the given budget. We promote the use of both high and low-volume keywords that provide excellent Return on investment (ROI) while lowering the overall cost of your PPC campaign. Give us a call today at 805-409-7700 to expand your multi-channel funnel and grow your business through online paid advertising.




Improve Your Pay-Per-Click Advertising with Services from Calinetworks
Much like the continually changing environment of Search Engine Optimization (SEO), PPC is a constantly evolving craft and must be pursued continuously to drive the most efficient bang for your buck. With over a decade of experience in PPC, our team understands how to select the right keywords to target, how to write a great ad, and most of all, how to get more of the right potential customers to see that ad. With talented experts on your side, your PPC campaigns will improve the overall traffic to your site and lead your customers to pages that convert into sales. Our consultation services can teach your team how to create low-cost advertisements that: provide more leads for your website, generate more revenue for your business, and increase your overall ROI.
Our goal is to establish effective PPC campaigns or to improve the efficiency of your current PPC campaigns. Many of our campaigns result in an increase in the number of clicks for each campaign and lower the average Cost Per Click (CPC) while maintaining or lowering the campaign budget. Below is an example of that strategy for small business advertising with geotargeting.

Below is an example of improving your ad groups and each individual ad to improve clicks, with the combination of lowering your CPC bid and improving quality scores.

LegitScript Certification
In order to be eligible for paid advertising across Google AdWords and Facebook Pay-Per-Click platforms, companies from certain industries require a certification from LegitScript.

The Best Pay-Per-Click Campaigns are Multi-Faceted
The strategy that defines success in PPC utilizes a number of avenues of advertisement that will complement your SEO efforts. Pay-Per-Click management offers you more control than with organic search improvements and allows you to jump straight to the top of search results much quicker than SEO does. Designing a powerful PPC strategy will make use of the following channels of advertisement in SEM and can have a considerable impact on the traffic of your business:
Google AdWords – Google is the largest search engine by far accounting for 60-70% of the desktop market and nearly 90% of mobile searches. Cost-effective Google Ads place your site within view of the largest amount of potential customers.
Bing Ads – Bing is the second largest search engine and accounts for 15-20% of the overall market. With a decent population of users and lower costs than advertising on Google, Bing is a great alternative location to advertise.
Facebook Ads – Facebook is the largest social media platform with billions of active daily users. Utilizing the ability to advertise in news feeds and directly on the sidebar allow for an effective method of reaching many potential customers and speaking right to your follower base.
Social Media Ads
Other PPC Outlets – Apple Search Ads, Instagram, Messenger, Atlas, Audience Network, Waze Ads, etc.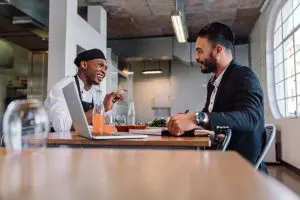 Whether your business is small, medium, or large with multiple locations, you can count on our expert team of PPC professionals to build you a campaign that will improve your sales. From products to business branding, we have the experience and knowledge to spend your advertising dollars as efficiently and effectively as possible so your business can grow with a positive ROI. Call our SEO & PPC experts at Calinetworks today for a free quote: 805-409-7700.
Contact us for a free PPC quote