Digital Marketing Agency in Camarillo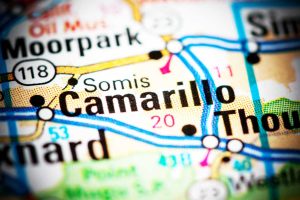 Whether you offer products or services, a well-crafted website is similar to relocating your storefront to the busiest street in the city. Employing the services of Search Engine Optimization (SEO) specialists, who use a variety of SEO techniques and tactics to increase organic search traffic from Google and other search engines, can greatly improve your business's sales effectiveness. SEO can lead to significant growth in overall organic search traffic, higher conversion rates, and more leads generated from your business website, especially if your site fails to rank among the top 10 search engine results pages (SERPs).
Improve your Website's Traffic
At CaliNetworks, we have been utilizing our tried-and-true expertise and methodology for over two decades, providing our clients in Camarillo and throughout California with a measurable edge in traffic gains over their local competitors. Our approach involves enhancing the visibility of your website by elevating keyword rankings on the primary search engines, such as Google, Bing, and Yahoo, which account for a significant portion of search engine traffic. Our team of skilled SEO analysts relish the opportunity to design a distinctive website for each of our clients, with the primary objective of increasing traffic to your site through the acquisition of high-quality users and leads.
Our monthly SEO packages are custom to our client's needs and can include the following:
Our SEO services provide monthly packages with hourly rates that vary depending on the workload and complexity of the project.

Our SEO services require a minimum of 10 hours per month, making it ideal for small businesses seeking substantial improvements in their online visibility.
We offer SEO packages with 20/25/30/40/50 hours per month, catering to medium to large corporate businesses that are looking to expand their online presence and achieve growth.
We provide conference call consultations for clients to discuss their SEO results, traffic, and rankings with our team of experts.
Our SEO services offer monthly full audits to analyze and evaluate the effectiveness of your website's optimization strategy.
We also offer enterprise-level SEO and PPC services that are provided by our team of expert professionals, which can significantly boost the traffic to your website.
We can help you find a plan that is tailored to your monthly advertising budget and target audience in Camarillo. Contact us today at (805) 409-7700 to learn more.
If you don't have an existing website, don't worry! We can help you get started from the ground up, just like we did with one of our clients. With a comprehensive SEO project plan and ongoing monthly work, we were able to achieve significant growth in organic search traffic and rankings on Google. Let us help you achieve the same success with your new website.
Organic Traffic and Keyword Rankings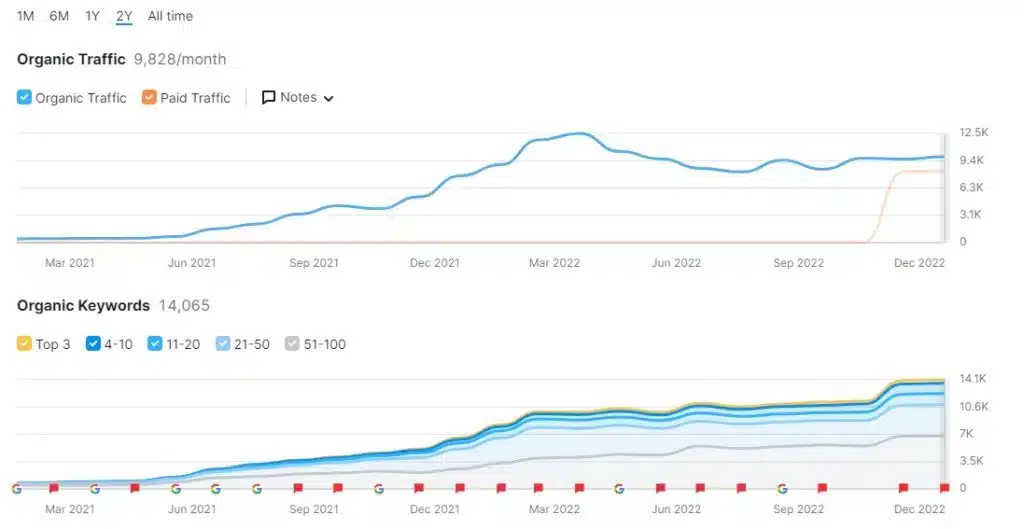 Achieving Business Success in Camarillo with Digital Marketing
Our digital marketing firm has been partnering with Camarillo businesses since 2001 to help them grow their website traffic and visibility. Our goal is to provide a mutually beneficial partnership that leverages our expertise and experience to develop effective advertising strategies tailored to the needs of your business and target audience. With over two decades of experience in the industry, we know how to construct and implement successful advertising strategies that deliver results for businesses in Camarillo, California. Contact us today to learn more about how we can help your business grow.
We understand the importance of a website that generates leads and sales for your business. If you're not seeing the results you deserve, our SEO Analysts and marketing teams have the experience to help you increase your organic search traffic. As a dedicated marketing firm, we prioritize your success and will work closely with you to create a custom advertising strategy that fits your business needs. Contact us today at (805) 409-7700 for a free quote on our digital marketing services for Camarillo businesses. Don't settle for a mediocre website with cheap marketing services, when you can achieve exceptional results that last.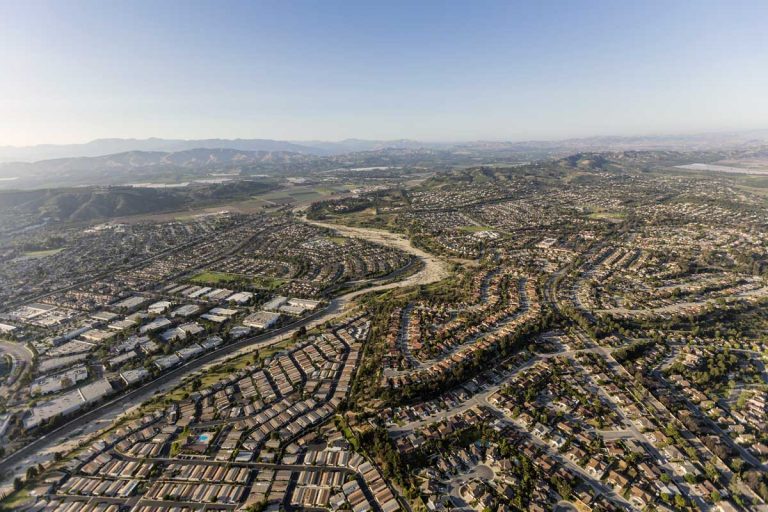 Reasons Why Your Business in Camarillo Needs SEO?
SEO can provide multiple advantages for a business located in Camarillo. Below are several reasons:
By utilizing SEO, your business in Camarillo can enhance its online visibility and rank higher in search engine results pages, resulting in increased foot traffic and sales.

 

By optimizing your website with relevant and high-quality content, as well as improving its visibility in search results, SEO can help position your business as a trusted and reliable source of information for potential customers in the Camarillocommunity. This can ultimately lead to increased brand awareness, customer loyalty, and a competitive edge in the local market.

By optimizing your website for search engines, SEO can enhance the user experience for potential customers who are searching for businesses similar to yours in the Camarillo region. This can lead to a better overall impression of your business and potentially increase the likelihood of conversion.
Targeting specific geographic areas through SEO can be a highly effective way to reach customers who are most likely to be interested in your products or services.
SEO is a powerful tool for Camarillo businesses aiming to draw and retain customers in the local area. By optimizing your website and online presence for local search, you can enhance the likelihood of potential customers finding and engaging with your business, leading to increased foot traffic and sales.
$1,850 / month Starting Price
"Basic" SEO Package that will help get your site started with Search Engine Optimization services.
Up to 10 hours of SEO Services per month

Track up to 10 keywords per month

Monthly organic search traffic report

SEO project guidance services

SEO Consulting Services, Q&A
Agency Level SEO for Small Businesses
"Premier " SEO Services – Get rankings and organic search traffic faster with a step up for SEO.
Monthly SEO Services Plan

Track up to 20 keywords per month

Monthly organic search traffic report

SEO Project Management Plan

1-2 pages of content per month
Full Service SEO for Large Websites
"Gold" SEO Services – Our Top SEO Plan to rapidly boost your SEO efforts for marketing.
Monthly SEO Services Plan

Track up to 40 keywords per month

Monthly organic search traffic report

SEO Project Management Plan

2-4 pages of content per month
Why is Search Engine Optimization (SEO) important for your online business?
Search Engine Optimization (SEO) is crucial for your online business as it enhances your website's rankings and visibility in Search Engine Results Pages (SERPs). Higher rankings in SERPs lead to increased online visibility and potential traffic, which can generate more leads and customers. Since Google's Search Engine dominates the market, focusing on improving rankings and organic traffic on this platform is particularly essential.
Our SEO case studies showcase the success of our clients who have utilized our SEO services to improve their online presence and drive more traffic to their websites. These studies serve as a valuable resource for understanding how SEO can benefit businesses.
1. SEO Case Study – Dental Office


Sessions INCREASED 2021 versus 2020
2. SEO Case Study – Construction Company Website


Sessions INCREASED 2021 versus 2020
3. SEO Case Study – Law Firm Website


Sessions INCREASED 2021 versus 2020
Experienced and Skilled Services for Search Engine Optimization (SEO)