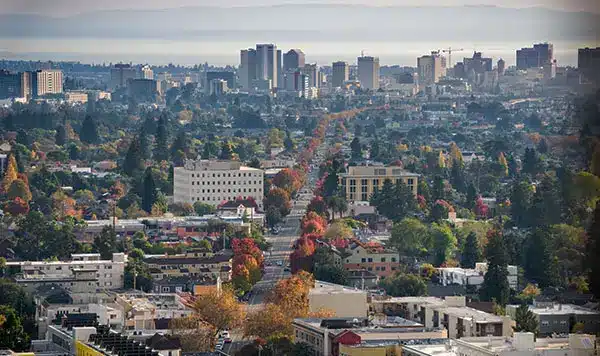 Oakland Search Engine Optimization (SEO) services in the bay area can helps businesses capture more leads, get more traffic, and generate more revenue from their website. Sites that rank well on platforms such as Google, Bing, and Yahoo are able to tap into the millions of users that these search engines see every day. SEO scales to businesses of all sizes and is used in most industries around the world in the digital era. Improving a site's search engine viability is a multi-step process that involves: Search Engine Optimization, Pay Per Click (PPC advertising), content development, and social media management in the Oakland, CA bay area.
Oakland Digital Marketing Services
SEO (Search Engine Optimization) – A well-optimized site can help your business grow in 2020. A successful SEO strategy employs a number of measures to achieve higher search rankings. This includes services such as: Competitor Analysis, Keyword Research, On-Page Optimization, Content Planning and Implementation, Back-link Audits, Web Design, Reporting, and Analytics.
PPC (Pay-Per-Click Marketing) – Paid ad campaigns allow websites to put their brand on digital billboards around the web. Google Ads is the most popular advertising platform on the web and it uses an auction system where the highest bidders receive ad placement at the very top of search results. This helps the ads be seen by thousands to millions of users a day and can net huge gains for companies that are willing to invest in highly-competitive keywords. An experienced PPC team can help you get the most out of your search ad campaigns by testing different versions of: ad copy, videos & images, targeting locations, and bid amounts.
Social Media Services – Social media platforms such as Facebook, Twitter, Instagram, LinkedIn, Pinterest, Google GMB, Yelp, and TikTok offer businesses a chance to connect with more customers from around the world. Millions of users actively browse these sites every day, and companies can reach out to many of these potential customers by maintaining a social presence with regular posts. A social media management package can help you create unique posts, interact with your followers, and build a robust social ad campaign.
Link Building – Links are one of the most important factors in SEO. The most successful sites on search engines all have a vast system of links from highly trusted domains around the web. These links can pass on a portion of that link equity to your site, increasing its perceivable trustworthiness & having a major impact on organic search performance. Links or link schemes should be bought as this can hinder your site's ability to rank in search results or get it removed altogether. The key to acquiring these links is having high-quality content that other websites find value in sending their users to.
Web Design Services –  Web design can improve multiple aspects of a site simultaneously. This can involve: updating logos & images for optimal file size, modernizing the look of the site while making it load faster, optimizing the navigation menu, and creating a responsive site design that scales well for users on all types of devices.
Analytics for Websites – A site's traffic, patterns, and keyword rankings can be analyzed to find where its biggest for improvements lie. This analytics process involves digging through data such as the: Click-Through-Rate, On-Page Dwell Time, Bounce Rates, and other key performance metrics to get an idea of how users spend time on the site.
Wikipedia Entry – Having a Wiki page is a status symbol that every brand can leverage to increase their site's credibility, traffic, link equity, and search engine visibility. Wikipedia articles must adhere to strict guidelines, so getting experienced help with putting together the content & finding the right sources can give your page a much better shot at being published.
ADA Compliance – Thousands of site owners are being sued every year because their sites do not offer an equal experience for disabled users. Websites with hard to read text, mislabeled headings, missing image alt attributes, or any other violation of the WCAG AA 2.1 guidelines can open the door for ADA-based lawsuits to appear. Get help in making sure that your site is ADA compliant today.
Search Engine Optimization
Improve keyword rankings and organic search traffic. Get more leads through SEO.
Competitor Research and Analysis
Improve keyword rankings and organic search traffic. Get more leads through SEO.
Keyword Discovery and Selection
Social Media Management Services
Grow your social media, engage with new customers, increase lead gen.
Facebook, Instagram, Twitter, LinkedIn, Pinterest, YouTube

Daily/Weekly Social Media Posts

Targeted Marketing with Ads

Monitoring Social Media Comments
Create a content strategy that works. Copywriting and content creation services.
Webpage Content Structure
Create a new website or upgrade your current site.
Website Maintenance Services

Responsive Design Layouts

WordPress Design and Templates

E-Commerce Solutions / Shopping

Custom Forms for Lead Gen.
Get Managed Website Hosting Services. Fast, Reliable, with a Human to talk to in the USA.
16 CPU Cores, 32 GB RAM, Custom Storage

High Performance SSD Servers

Cloud Setup and Configuration
Americans with Disabilities Act Compliance
Get your website ADA compliant with WCAG 2.1 AA standards
ADA Compliance for WCAG 2.1 AA

Web Accessibility Compliance Audit

3rd Party Widget for ADA Compliance

Section 508 WCAG 2.1 Level AA Compliant

ADA Website Plugins for Management
Need Custom Consulting for Digital Marketing?
We offer custom packages for customers with the needs that have for their websites.
Analytics Audit and Review

Website Cleanup and Optimization

Conversion Optimization Review

Improve Website SiteSpeed
*If there are any questions about specific services, please contact us.
Case Studies for Oakland SEO Services
SEO Case Study #1 – Insurance Company

SEO Case Study #2 – E-Commerce Site

SEO Case Study #3 – Legal Website

SEO Case Study #4 – Automotive Website

How Important is Oakland SEO for My Business?
The bay area is sprawling with potential customers searching for places to eat, things to buy, and services to purchase on search engines every day. Local SEO efforts have helped many businesses from Oakland build a more visible digital presence. Achieving top organic search rankings through SEO can offer some of the best returns in all of marketing, where a few thousand dollars a month could bring in millions of dollars in revenue.
How Long Does the SEO Process Take?
With over 200 factors considered in Google's ranking algorithm, SEO can take some time to fully optimize a site and give it a good shot of ranking well. Search Engine Optimization can anywhere from a couple of weeks to a few months depending mostly on how large a site is and how deep its issues are. With search ranking formulas being modified daily, the sites who constantly stay on top of their SEO efforts are the ones who stay ahead of the curve.
Should My Site Content Be Written Specifically For SEO Ranking?
Definitely. Your website content should always be created with SEO in mind, but many webmasters forget that keyword density is as important as creating a good user experience. Well-written SEO content is able to balance the right amount of important keywords while providing unique value for the user. An experienced SEO writer can ensure that your content is built to rank well. Contact CaliNetworks today to find out about content services or fill out the form below to get started. (805) 409-7700