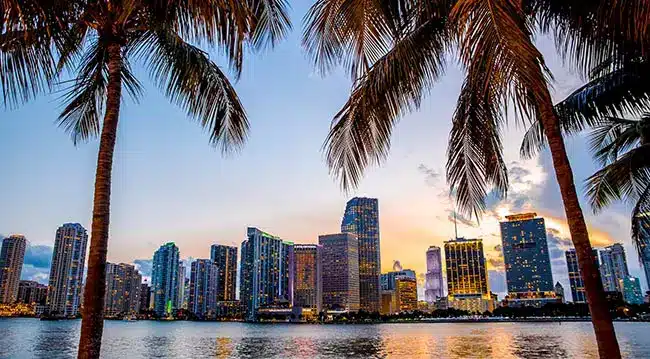 Miami Search Engine Optimization (SEO) is a digital marketing strategy that can net your Florida-based business more traffic, customers and revenue from your website. With millions of daily users, search engines provide immense benefits for sites that rank well among their results. SEO focuses on making a site more visible on search engine by improving its keyword rankings. The process of increasing a site's SEO viability involves services various services such as: Search Engine Optimization, Pay Per Click (PPC ads), social media development & building, and SEO content writing.
Miami Digital Marketing Services
SEO (Search Engine Optimization) – Search engines have become one of the best options for businesses looking to grow. The sites that rank in the top 3 tend to get 60% of the traffic that searches for a keyword. SEO is a well-developed marketing blueprint that helps many businesses get more out of the digital storefront of their website. SEO is a multi-step process that involves things such as: Keyword Research, Content Planning and Implementation, Back-link Audits, Competitor Analysis, On-Page Optimization, Web Design, Analytics, and SEO Reporting.
PPC (Pay-Per-Click Marketing) – Paid advertising yields immediate traffic for a price paid in return for impressions or clicks. PPC ad returns are influenced by a handful of different factors such as the ad copy, landing page load speed, and the quality of images or video used for the media. A typical PPC expert will A/B test various scenarios to hone in on the best target audience for the ad campaigns. Paid marketing is complimentary to what SEO can do for a site, so both are often done at the same time.
Social Media Services – Social media sites are the second largest platforms on the web behind search engines and get millions of users to interact with each other every day. Sites like Facebook, Twitter, Instagram, LinkedIn, Pinterest, Google GMB, Yelp, and TikTok offer great opportunities for businesses to connect with customers on a personal level and build their brand awareness for less. Social media marketing service involve creating social profiles and building their followings with organic & paid posts. This not only drives traffic directly to the site, but can also offer benefit to SEO efforts as social profiles can show up in rankings for brand keywords.
Link Building – Having trusted websites link to your domain helps your site rank better in search engine results. Link building has been a critical factor in the success of websites since the early 2010's, but many site owners go about it in the wrong way by buying them. These links should never be bought, but can be earned by creating a site filled with high-quality content that other sites find value in linking to. A team of Miami SEO content experts can help you create a unique user experience that will help your site earn these valuable links.
Web Design Services – Web design can make your site more user friendly while improving various aspects of the site that make it better for SEO. A web design plan can help your site by: improving brand awareness, updating logos and image file size to be minimal, optimizing which links appear in your menu navigation, speeding up how quickly pages are able to load, and by creating responsive web pages that provide a smooth experience for users on all types of devices.
Analytics for Websites – Website metrics can have many insights as to where the biggest improvements can be made. An experienced site analyst can use the data from these patterns, traffic, and keyword rankings to provide the best route of attacking the site's SEO weaknesses. Get a second set of eyes to look over your Keyword Rankings, Traffic, Conversions, and Bounce Rates to find new opportunities for improving your site performance.
Wikipedia Entry – For both businesses and personal profiles, Wikipedia articles have strict requirements for getting through the publishing process. A team of experienced editors can build your article from credible sources and give it a better chance of surviving the rigorous editing process.
ADA Compliance – ADA compliance is an issue for site owners that is becoming more and more prominent every year. WCAG AA standards require that sites are built in a way that makes them equally accessible for those with disabilities, and your site must adhere to these guidelines or it can leave you vulnerable to ADA-based lawsuits. ADA compliance is something that can be built into an SEO strategy and should be done for every site.
Search Engine Optimization
Improve keyword rankings and organic search traffic. Get more leads through SEO.
Competitor Research and Analysis

Site Design (Desktop/Mobile)
Improve keyword rankings and organic search traffic. Get more leads through SEO.
Keyword Discovery and Selection
Social Media Management Services
Grow your social media, engage with new customers, increase lead gen.
Facebook, Instagram, Twitter, LinkedIn, Pinterest, YouTube

Daily/Weekly Social Media Posts

Targeted Marketing with Ads

Monitoring Social Media Comments
Create a content strategy that works. Copywriting and content creation services.
Webpage Content Structure
Create a new website or upgrade your current site.
Website Maintenance Services

Responsive Design Layouts

WordPress Design and Templates

E-Commerce Solutions / Shopping

Custom Forms for Lead Gen.
Get Managed Website Hosting Services. Fast, Reliable, with a Human to talk to in the USA.
4 CPU Cores, 8 GB RAM, Custom Storage

High Performance SSD Servers

Cloud Setup and Configuration
Americans with Disabilities Act Compliance
Get your website ADA compliant with WCAG 2.0 AA standards
ADA Compliance for WCAG 2.0 AA

Web Accessibility Compliance Audit

3rd Party Widget for ADA Compliance

Section 508 WCAG 2.0 Level AA Compliant

ADA Website Plugins for Management
Need Custom Consulting for Digital Marketing?
We offer custom packages for customers with the needs that have for their websites.
Analytics Audit and Review

Website Cleanup and Optimization

Conversion Optimization Review

Improve Website SiteSpeed
*If there are any questions about specific services, please contact us.
Case Studies for Miami SEO Services
SEO Case Study #1 – Insurance Company

SEO Case Study #2 – E-Commerce Site

SEO Case Study #3 – Legal Website

SEO Case Study #4 – Automotive Website

How Important is Miami SEO for My Business?
With a majority of individuals now finding products & store online through channels such as search engines, SEO has become one of the most powerful marketing tools available for modern business owners. A well-optimized site can help your business generate more visitors, leads, and revenue than without one. Other marketing services such as PPC can pay off as well, but in some areas such of Florida where highly-competitive keywords can cost over a hundred dollars per click, SEO can potentially get you more for less.
With over 200 constantly changing factors going into how a site ranks on Google, many business owners have already adopted SEO services to help them stay ahead of the game. This puts them a step ahead of any business that isn't willing to participate in the SEO race. An experienced Miami SEO company can get your engines going and help your company meet its marketing goals for 2020.
How Long Does the SEO Process Take?
Search Engine Optimization is an ongoing process of improvement where even sites that rank at the top have room to improve so they can stay there. Overall, the time that SEO takes to work depends on how large a site is & how many things have be corrected. In general, a basic Search Engine Optimization package could take anywhere from a couple of weeks to a few months to complete. The earlier you start SEO work on your site, the better your site will perform in search results in the long run as long as the SEO practices are maintained.
Should My Site Content Be Written Specifically For SEO Ranking?
Content should always be built with the core SEO ideas in mind, but it should also aim to drive a good user experience rather than appeal to search engine crawlers. This is a common mistake that many site owners make when writing their content. Site content should always be written to be unique, and although it can be based on ideas from other sites, it should never be a direct copy of content from another site. When designing your content plan, it's important to integrate both the right amount of high-volume keywords while creating a user experience that many will find valuable. An experienced Miami SEO firm can help you build a highly visible digital storefront. Fill out the form below or give us a call at CaliNetworks to get started today. (805) 409-7700