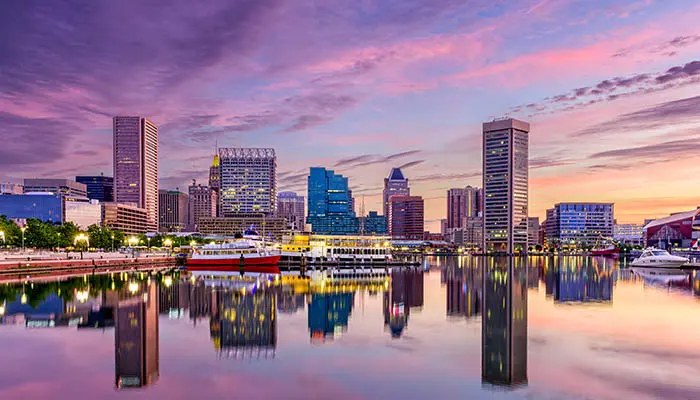 With over 6 million residents, Maryland is a great place to establish a healthy business. From Baltimore to Annapolis, companies of all kinds can benefit from having a well-built website that acts as a digital storefront to the billions of daily search engine users. Maryland Search engine optimization can help businesses of all sizes capture more leads, get more traffic, and generate more revenue from their website. If you're ready to grow your business in 2020, then Search Engine Optimization, Pay-Per-Click ads, content creation, and social media management can help you achieve your goals.
Case Studies for Maryland SEO Services
SEO (Search Engine Optimization) – Search engines can drive a substantial amount of customers into your lead funnel if your website is able to rank high enough in search results. SEO is a multi-step marketing strategy that includes services such as: Keyword Research, Content Planning and Implementation, Competitor Analysis, Analytics and SEO Reporting, On-Page Optimization, Backlink Audits, and Web Design.
PPC Advertising – Search engine ads on Google work on an auction system where the highest bidders get premium spots above organic search results. These types of advertising campaigns can have excellent returns, but to really fine tune the results, different combinations of ad copy, keywords, targeting demographics, and budgets have to be tested. An experienced PPC team can give you the upper hand in this competition.
Social Media Services – Social media Platforms such as Facebook, Instagram, LinkedIn, Twitter, YouTube, Pinterest, Yelp, and Google My Business give companies a unique opportunity to engage directly with potential customers, create highly-targeted advertising campaigns, and keep your brand followers in the loop.
Link Building – Acquiring backlinks is an essential part of any site that wants to rank well in search results. With links from trusted domains around the web, a site is perceived to be more trustworthy and even of higher quality than those without a similar link profile. These types of links are highly valuable, but should never be purchased as this can get your site removed from Google's search index altogether. The best way to build these links is to create high-quality content that other websites want to link to. An SEO team can help you with the process of building links for your Maryland site.
ADA Compliance – Websites are held to the same compliance standards that physical businesses are in terms of equal accessibility for the disables. Your site must adhere to WCAG 2.0 AA standards or your company could face ADA compliance lawsuits without any warning at all. ADA compliance services to fix the site can add an extra layer of protection for your Maryland company.
Web Design Services – Web design packages improve various aspects of a site's usability such as the: user friendliness, visual appeal, and page load speed. Each of these aspects can have a major impact on the site's organic performance in search results. The redesign process updated thing such as the main navigation, file sizes for logos & images, the user interface, and it make the site scale better for users on all types of devices.
Analytics for Websites – Analytics tracking from Google can be used to track & research many aspects of the site's performance. This involves analysis of the Keyword Rankings, Conversions, Traffic, and User Bounce Rates to gain an understanding of how the site can be improved for search engine performance.
Wikipedia Entry – Wikipedia pages offer many benefits to a company or personal profile. Having a Wiki page can increase search engines' perception of how trustworthy a site is and give the site a better chance of being featured in unique search results such as Google's knowledge graph. Wiki pages must meet very specific requirements for passing the test such as being written in encyclopedic language and being well-supported by credible sources such as news articles from major organizations. An experienced team of writers can help you build your own Wiki page today.
Search Engine Optimization
Improve keyword rankings and organic search traffic. Get more leads through SEO.
Competitor Research and Analysis
Improve keyword rankings and organic search traffic. Get more leads through SEO.
Keyword Discovery and Selection
Social Media Management Services
Grow your social media, engage with new customers, increase lead gen.
Facebook, Instagram, Twitter, LinkedIn, Pinterest, YouTube

Daily/Weekly Social Media Posts

Targeted Marketing with Ads

Monitoring Social Media Comments
Create a content strategy that works. Copywriting and content creation services.
Webpage Content Structure
Create a new website or upgrade your current site.
Website Maintenance Services

Responsive Design Layouts

WordPress Design and Templates

E-Commerce Solutions / Shopping

Custom Forms for Lead Gen.
Get Managed Website Hosting Services. Fast, Reliable, with a Human to talk to in the USA.
16 CPU Cores, 32 GB RAM, Custom Storage

High Performance SSD Servers

Cloud Setup and Configuration
Americans with Disabilities Act Compliance
Get your website ADA compliant with WCAG 2.1 AA standards
ADA Compliance for WCAG 2.1 AA

Web Accessibility Compliance Audit

3rd Party Widget for ADA Compliance

Section 508 WCAG 2.1 Level AA Compliant

ADA Website Plugins for Management
Need Custom Consulting for Digital Marketing?
We offer custom packages for customers with the needs that have for their websites.
Analytics Audit and Review

Website Cleanup and Optimization

Conversion Optimization Review

Improve Website SiteSpeed
*If there are any questions about specific services, please contact us.
Case Studies for Maryland SEO Services
SEO Case Study #1 – Insurance Company

SEO Case Study #2 – E-Commerce Site

SEO Case Study #3 – Legal Website

SEO Case Study #4 – Automotive Website

How important is Maryland SEO for my business?
SEO quickly becoming one of the most powerful marketing tools on the planet because of the explosive growth that search engines see every year. Google alone gets over 40,000 queries every second and your site has to be built in a specific way to get a piece of that pie. With over 60% of the search traffic going to the top 3 results, it's imperative that your site rank well if you want to leverage the true power of these online markets. Although it may seem minor, the difference between ranking in position 3 and position 5 can equate to millions of dollars in revenue. If you're ready to grow your business in the digital era, speak to an SEO expert today at CaliNetworks to find out more about how to improve your website. (805) 409-77700
How long does SEO take to start driving serious traffic?
Although some sites can see results in a matter of days, most see better keyword rankings within 2-8 weeks after implementing changes to the site. With over 200 factors considered in Google's algorithm analyzing a site's quality, the SEO process can take some time to optimize for each one. If 2020 is the year where your business is ready to achieve substantial growth, then the earlier you start your SEO campaign, the better.
Should my site's content be built specifically for SEO performance?
Writing content for SEO is a matter of juggling factors such as the keyword density, the inclusion of media such as images & videos, and matching expectations that search engines have of your site based on similar competitor sites. High-quality content is able to find a fine balance between creating a unique & useful user experience while targeting a wide variety of relevant keywords & being of the right length.