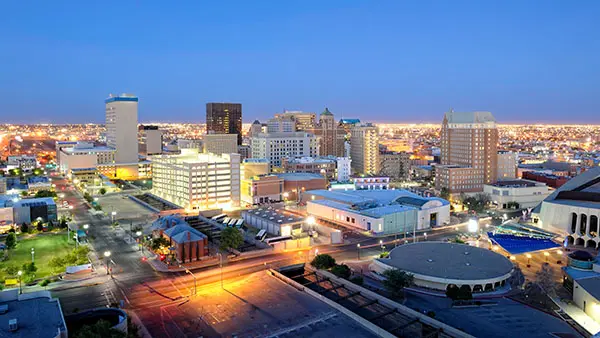 Does your business need a better website? El Paso SEO can help your company generate more leads, traffic, and revenue by improving the site to rank better among search engine results. Digital marketing plans are scalable to businesses of all sizes and include services such as: PPC/Pay Per Click (paid advertisements), SEO (Search Engine Optimization), social media management services, and content creation/strategy services.
El Paso Digital Marketing Services
SEO Marketing – The SEO process of creating or updating a site so that it ranks better in organic search results. With billions of users searching on Google, Bing, and Yahoo every day, search engines have incredible potential for bringing customers into your business. Optimizing a site to perform better on search engines involves a number of different steps including: Competitor Analysis, Keyword Research, Content Planning and Implementation, Back-link Audits, On-Page Optimization, Web Design for Mobile Responsiveness, Analytics and SEO Reporting to earn your organic search rankings and organic search traffic.
PPC Ads – Also known as PPC/Cost-Per-Click (CPC), paid ads can drive immediate traffic to your site for a cost. Professional management of these ads often increases the return on your investment significantly through the A/B testing of different ad copy, images, and geo-targeting to get the best bang for your buck. These types of campaigns are complementary to SEO efforts and can be run at the same time.
Social Media – Social media marketing allows a business to reach more customers and connect with them on a personal level. Social platforms continue to be used more and more every day and maintaining a profile on sites such as Facebook, Instagram, LinkedIn, Twitter, Pinterest, Google GMB, Yelp, and TikTok can help your brand be seen by more potential clients.
Link Analysis – Having a robust network of healthy back-links is a vital factor in a search engine's evaluation of your site's trustworthiness. Building a successful website involves earning links from highly trusted websites to show that your site is worth promoting. Acquiring these links mainly involves building high-quality content that other sites want to link to.
Website Design – Update the look & usability of your site with a redesign. Professional web design services can: modernize your menu navigation, update logos and pictures to minimize file size, optimize the load speed of your site, improve brand awareness, and create responsive web pages that work well for both desktop and mobile users.
Website Analytics – An SEO expert can analyze a site's patterns, traffic, and keyword rankings to recognize areas where they can be improved. This process involves research and analysis of: Keyword Rankings, Traffic, Conversions, Bounce Rates, etc. See what's holding your website back and find new opportunities to improve growth for your digital marketing efforts.
Knowledge Graph – Getting a Wikipedia entry made for your company or personal profile has many strict requirements. An experienced editor can help you create the right Wiki content with credible sources that will help it stay up. This will benefit your company's Knowledge Graph profile.
ADA Website Compliance – ADA compliance should be a concern for every website owner as many companies are now being sued for their sites not working well for disabled visitors. Reworking a site's content to be compliant with WCAG 2.0 AA standards can help protect your business from ADA-based lawsuits.
Search Engine Optimization
Improve keyword rankings and organic search traffic. Get more leads through SEO.
Competitor Research and Analysis
Improve keyword rankings and organic search traffic. Get more leads through SEO.
Keyword Discovery and Selection
Social Media Management Services
Grow your social media, engage with new customers, increase lead gen.
Facebook, Instagram, Twitter, LinkedIn, Pinterest, YouTube

Daily/Weekly Social Media Posts

Targeted Marketing with Ads

Monitoring Social Media Comments
Create a content strategy that works. Copywriting and content creation services.
Webpage Content Structure
Create a new website or upgrade your current site.
Website Maintenance Services

Responsive Design Layouts

WordPress Design and Templates

E-Commerce Solutions / Shopping

Custom Forms for Lead Gen.
Get Managed Website Hosting Services. Fast, Reliable, with a Human to talk to in the USA.
16 CPU Cores, 32 GB RAM, Custom Storage

High Performance SSD Servers

Cloud Setup and Configuration
Americans with Disabilities Act Compliance
Get your website ADA compliant with WCAG 2.1 AA standards
ADA Compliance for WCAG 2.1 AA

Web Accessibility Compliance Audit

3rd Party Widget for ADA Compliance

Section 508 WCAG 2.1 Level AA Compliant

ADA Website Plugins for Management
Need Custom Consulting for Digital Marketing?
We offer custom packages for customers with the needs that have for their websites.
Analytics Audit and Review

Website Cleanup and Optimization

Conversion Optimization Review

Improve Website SiteSpeed
*If there are any questions about specific services, please contact us.
Case Studies for El Paso SEO Services
SEO Case Study #1 – Insurance Company

SEO Case Study #2 – E-Commerce Site

SEO Case Study #3 – Legal Website

SEO Case Study #4 – Automotive Website

Is El Paso SEO Important for My Texas Business?
Having a well-established & highly visible digital storefront can generate more visitors, leads, and revenue for your business than without one. SEO is an imperative factor for your company's ongoing growth & success in this digital era. When compared to paying for traffic with ads, where some keywords can cost over $100 a click in Texas, ranking organically through SEO can offer more return for less in the long run.
Search Engine Optimization is an ongoing process of improvement where even the best sites that consistently rank in the top 3 have ample room to grow. Many of your competitors may have ongoing SEO packages that keep their sites up to date with Google's latest changes and keep them in the hunt for that #1 spot.  An experienced El Paso SEO company can help you outrank your competitors and meet your marketing goals in 2020.
How Long Does the SEO Process Take?
Search Engine Optimization can take as little as a couple of weeks or as long as a few months to see the results. Google's algorithms user over 200 different factors that determine how it is ranked on the search engine. An SEO's job is to optimize the site for each of these factors and this process can take months depending on how large a site is and how many issues need to be corrected.
Should My Site Content Be Written Specifically For SEO Ranking?
Yes and no. While it It is critical that your site's content is built on a strong foundation of SEO principles, content should never be written simply to appease the ranking algorithms. The prevailing site building strategies rely heavily on designing content that ranks well among competing websites. Good content balances the right density of high-volume keywords while creating a smooth user experience that offers useful information or affordable products. A veteran SEO firm can help to ensure that your El Paso website is built in the right way & has the best chance of ranking well. Give us a call at CaliNetworks or fill out the form below to get started. (805) 409-7700