Get New Business Leads with Digital Marketing in Fort Worth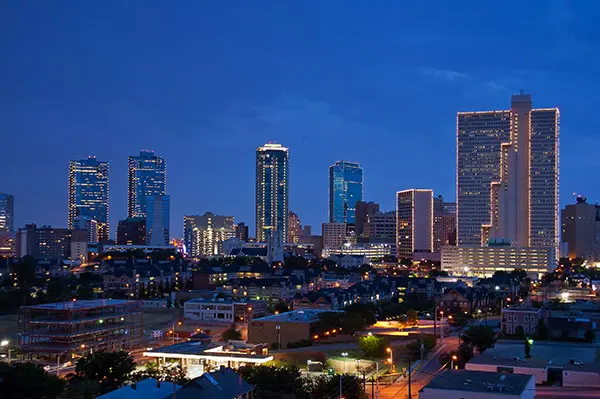 Build your brand visibility, customer base, and revenue generated with the best Fort Worth SEO services in your area. Texas digital marketing is a cost-effective avenue of advertising that can be scaled to businesses of all sizes, from mom & pop shops to Wall Street giants. With the rapid growth of the usability of the internet, websites have become one of the best routes for reaching more potential customers through the use of search engines. To maximize your marketing efforts in the digital era, your budget should always include room for Search Engine Optimization (SEO), Pay Per Click (PPC) paid search ads, social media management, and content creation services that help more people find your website and convert into paying customers.
Digital Marketing Services in Fort Worth, Texas
SEO – Competitor Analysis, Keyword Research & Planning, High-Quality Content Creation, Auditing Back-links, Optimized Web Design, Organized Reporting, and Analytics.
PPC – Pay Per Click advertising focuses on driving immediate traffic to a website based on bidding for ad placements in search engine results.
Social Media Services – Millions of users spend time on social media platforms every day. Social media management ensures that your company participates in this important ranking signal by providing content on sites such as Facebook, Twitter, Instagram, LinkedIn, Pinterest, and TikTok, etc.
Link Analysis on Competitors– A well-built website can more easily attract back-links from highly trusted domains. Attaining these back-links is one of the most important ranking signals that can affect organic performance and should always be considered in an SEO strategy.
Web Design Services – Design experts can build your website in a way that will improve the visibility of your brand, rework logos and images to optimize web site loading speed, organize the menu navigation of your site, and create a smooth experience for users on all types of devices.
Analytics for Websites – Analysis of a site's keyword rankings, traffic, and overall performance trend can give your team an idea of where future marketing efforts should be focused.
Wikipedia Entry – Wikipedia entries can be tough to get updated or uploaded without in-depth knowledge of the strict editing guidelines. An experienced editor can help you get your Wikipedia entry live in no time.
ADA Compliance – All websites must be ADA Compliant and WCAG 2.0 AA Compliant so that their sites can be properly used by those with disabilities. Failure to comply with these guidelines can result in compliance lawsuits resulting from problems with the site. So, it's imperative that your site is worked on by an ADA compliance expert who can create an accessibility statement & help protect the site from lawsuits.
Search Engine Optimization
Improve keyword rankings and organic search traffic. Get more leads through SEO.
Competitor Research and Analysis
Improve keyword rankings and organic search traffic. Get more leads through SEO.
Keyword Discovery and Selection
Social Media Management Services
Grow your social media, engage with new customers, increase lead gen.
Facebook, Instagram, Twitter, LinkedIn, Pinterest, YouTube

Daily/Weekly Social Media Posts

Targeted Marketing with Ads

Monitoring Social Media Comments
Create a content strategy that works. Copywriting and content creation services.
Webpage Content Structure
Create a new website or upgrade your current site.
Website Maintenance Services

Responsive Design Layouts

WordPress Design and Templates

E-Commerce Solutions / Shopping

Custom Forms for Lead Gen.
Get Managed Website Hosting Services. Fast, Reliable, with a Human to talk to in the USA.
16 CPU Cores, 32 GB RAM, Custom Storage

High Performance SSD Servers

Cloud Setup and Configuration
Americans with Disabilities Act Compliance
Get your website ADA compliant with WCAG 2.1 AA standards
ADA Compliance for WCAG 2.1 AA

Web Accessibility Compliance Audit

3rd Party Widget for ADA Compliance

Section 508 WCAG 2.1 Level AA Compliant

ADA Website Plugins for Management
Need Custom Consulting for Digital Marketing?
We offer custom packages for customers with the needs that have for their websites.
Analytics Audit and Review

Website Cleanup and Optimization

Conversion Optimization Review

Improve Website SiteSpeed
*If there are any questions about specific services, please contact us.
Case Studies for Fort Worth SEO Services
SEO Case Study #1 – Insurance Company

SEO Case Study #2 – Communications Site

SEO Case Study #3 – Legal Website

SEO Case Study #4 – Automotive Website

How SEO is important for Fort Worth businesses?
Search Engine Optimization (SEO) can drive some of the highest amounts of traffic to your site of any marketing channel while being quite cost-effective in the long run. Building an optimized digital storefront has become a staple in the growth strategy for many businesses, so many of your local competitors are likely already using SEO to gain an advantage. By using SEO to organically rank for high-volume keywords, business owners increase the opportunity for their business to grow. When compared to PPC where some keyword phrases can cost upwards of $100/click, SEO can save thousands on the marketing budget when it is done well. Working with a veteran SEO company that has experience with building websites in the Dallas-Fort Worth can help you achieve your marketing goals for 2020.
How long does SEO to achieve results?
Google uses over 200 different factors to rank sites on their search engine results, and with many of these dials being tweaked every week, it can take a lot of work to make an impact on a site's organic rankings. Optimizing a site can take weeks to months mostly depending on its size and current issues. However, performance improvements can often be seen days after updates or additions are made depending on a site's history and how it was changed. Fort Worth SEO can help your site rank better in local and national results down the line, so the earlier you start, the earlier you will see the benefits of utilizing the most powerful marketing tool in the modern advertising era.
Should my website have content that's built for SEO?
Yes and no. The content of your site should follow principles of good SEO practices, but should not be built solely for ranking purposes. Good content should be able to provide a quality user experience and serve the information or products that the website's visitors are looking for. Content is another one of the important SEO factors for ranking well and should be handled by experienced copywriters for the best results.