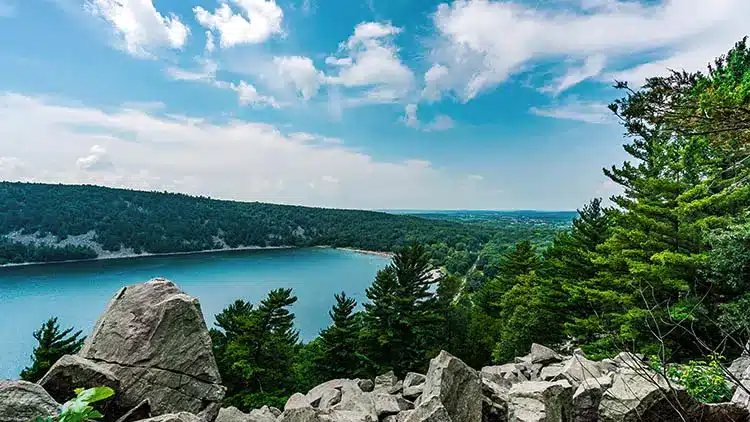 With billions of daily users, search engines have become the most powerful stream of potential customers that businesses across the world can tap into. Wisconsin Search Engine Optimization (SEO) is a digital marketing service that can help your brand grow by achieving higher rankings among search engine results. Through a combination of Search Engine Optimization, Pay-Per-Click (PPC) ads, content creation and social media management, companies can achieve get better returns than with traditional marketing channels.
Digital Marketing in Wisconsin
SEO (Search Engine Optimization) – SEO is a process of strengthening a site's ability to climb search engine rankings through white hat marketing practices. This process includes many steps such as: Competitor Site Analysis, Web Design, Backlink Audits, Analytics & SEO Reporting, Content Planning and Implementation, Keyword Research, and On-Page Optimization.
PPC (Pay Per Click Advertising) – Paid search engine ads allow site owners to pay to have their results appear above all of the organic results. Google's paid advertising campaigns run on an auction system where the highest bidders get the best ad placements. Cost per click ads can bring in a substantial amount of traffic to your site, but to truly optimize them, the keywords, bids, demographic targeting, and ad copy must be developed to hone in on the best returns.
Social Media Services – Maintaining profiles on social platforms such as Facebook, Instagram, Twitter, LinkedIn, YouTube, Pinterest, Google GMB, Yelp, and TikTok allow you to engage with consumers of your brand on a personal level, create highly-targeted ad campaigns for specific audiences, and keep your followers in the loop with updates about your company & products. Even if you don't plan on advertising on social media, it is always a solid idea to at least maintain a business profile & make weekly posts on Facebook, LinkedIn, and Instagram.
Competitor Backlink Analysis – One of the higher ranking websites in search results for broad searches usually has a healthy network of links from highly trusted domains around the web. This helps search engines understand that the site is trustworthy and has high-quality content that other sites find value in linking to. The process of link building should never be skimped on by buying these types of links as this can result in site-destroying penalties that your domain may never recover from. Instead, Google recommends that you build high-quality content that is worth sending users to.
ADA Compliance – More and more sites are being sued every year because they are not ADA compliant. Without any warning at all, a site that does not adhere to WCAG 2.0 AA standards can be the target of an ADA compliance lawsuit based on its inability to provide an equal experience for disabled users.
Web Design Services – A professional web design team can improve your site's performance by making it more user friendly, faster to load, and more visually appealing. Redesigns can give your site a fresh look that fits the modern look of the company, optimize the main navigation layout & links, and substantially reduce image sizes to increase page load speed.
Analytics for Websites – Website analytics through platforms such as Google or Adobe give marketing teams invaluable insight as to how the organic search performance can be improved. The process of breaking down the site's weaknesses involves the study of Organic Traffic, Keyword Rankings, Conversion, and Bounce Rates to see where marketing efforts may have the most impact.
Wikipedia Entry – Wiki entries add value to your brand or personal profile by increasing your site's perceived trustworthiness and even giving it a better chance of being featured in Google knowledge graph results. Successfully getting a Wikipedia page through the editing process takes experience in writing for encyclopedias and the article must be very well supported by sources from credible organizations. If your business is in need of a Wiki page, contact CaliNetworks today to see if your business is eligible for this type of page. (805) 409-7700
Search Engine Optimization
Improve keyword rankings and organic search traffic. Get more leads through SEO.
Competitor Research and Analysis
Improve keyword rankings and organic search traffic. Get more leads through SEO.
Keyword Discovery and Selection
Social Media Management Services
Grow your social media, engage with new customers, increase lead gen.
Facebook, Instagram, Twitter, LinkedIn, Pinterest, YouTube

Daily/Weekly Social Media Posts

Targeted Marketing with Ads

Monitoring Social Media Comments
Create a content strategy that works. Copywriting and content creation services.
Webpage Content Structure
Create a new website or upgrade your current site.
Website Maintenance Services

Responsive Design Layouts

WordPress Design and Templates

E-Commerce Solutions / Shopping

Custom Forms for Lead Gen.
Get Managed Website Hosting Services. Fast, Reliable, with a Human to talk to in the USA.
16 CPU Cores, 32 GB RAM, Custom Storage

High Performance SSD Servers

Cloud Setup and Configuration
Americans with Disabilities Act Compliance
Get your website ADA compliant with WCAG 2.1 AA standards
ADA Compliance for WCAG 2.1 AA

Web Accessibility Compliance Audit

3rd Party Widget for ADA Compliance

Section 508 WCAG 2.1 Level AA Compliant

ADA Website Plugins for Management
Need Custom Consulting for Digital Marketing?
We offer custom packages for customers with the needs that have for their websites.
Analytics Audit and Review

Website Cleanup and Optimization

Conversion Optimization Review

Improve Website SiteSpeed
*If there are any questions about specific services, please contact us.
Wisconsin SEO Case Studies
SEO Case Study #1 – Car/Auto Website

SEO Case Study #2 – Car Insurance Company

SEO Case Study #3 – Online Shopping Site

SEO Case Study #4 – Attorney Website

Why is SEO important for my Wisconsin business?
Optimizing your site creates an unparalleled opportunity to grow your brand through the power of search engines that see over 40,000 queries per second. The top 3 search results capture over 60% of the users for most keywords, so it is crucial that your site is able to not just rank well, but near the top. Compared to running PPC campaigns, SEO can pay off more in the long run as it essentially captures free traffic from search engine results rather than paying for traffic. Speaking of which, highly competitive PPC keywords in Wisconsin can also cost over $100+ per click.
How long does it take for Search Engine Optimization to work?
Search Engine Optimization is more of a marathon then it is a sprint. With over 200 rankings factors that have to be optimized for, it can take a few weeks or months for a site to see the results from SEO efforts. These factors are also constantly being tweaked, so many companies incorporate ongoing SEO into their marketing strategies. If your business is ready to grow in 2020, then the best time to start reaching for those new heights is now. An experienced SEO team with decades of combined experienced can help you get your site on the right track.
Should my site content be built for SEO ranking?
Quality content is not only built to appease search engine crawlers, but also must provide a positive & useful experience to users. Well-written content is able to jungle many concepts such as adding unique value to users, incorporating media such as images and videos, and being of the proper length.