Organic Search Traffic from White Hat SEO Tactics
When most people think of SEO, they think of keywords ranking on the first page of Google. While there is truth in this thinking, there's much more to SEO than just keywords ranking on Google. There is a whole methodology and process to white hat SEO techniques that work. Some of these white hat SEO tactics include high-quality content, fast page load times, a good user experience (UX), high-quality backlinks, social media signals, and other factors that are a part of Google's 200+ algorithm signals for ranking websites in their Google Search Engine.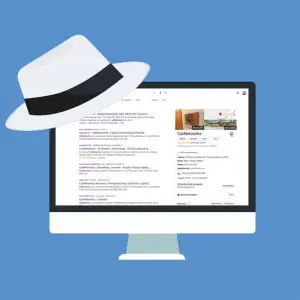 An SEO technique that requires optimization to a website in order to rank high on Google's Search Engine Result Pages (SERPs) and the website has to follow Google's Webmaster Guidelines. That means you cannot violate Google's guidelines with Black Hat SEO (webspam). White hat SEO is a long-term methodology that is used to help improve your website's visibility in search engines and match users to what they are searching for on the internet. Some of these white hat techniques are mentioned below in the next section.
Blackhat SEO is like using a slingshot to shoot arrows: it may work in the short term, but in the long run, it is likely to backfire and cause more harm than good.
There are many white hat search engine optimization (SEO) techniques that work on websites and will help them rank better on search engines such as Google and Bing. We have included several common white hat SEO tips and techniques to follow below. If you need some general information on Search Engine Optimization (SEO), then check out Google's SEO Starter Guide in the Help Center under Google's General Guidelines.
Common white hat SEO techniques to improve your website:
High-Quality Content
Optimized Title, Meta Description tags
Heading Tags
Good website structure (URL, Navigation, and webpage grouping)
Fast webpage load times
Great User Experience (UX)
Additional images and video
Backlinks – Quality, strong backlink profile that was earned over time
Good Responsive website for Desktop/Tablet/Mobile devices
Schema Markup on pages
Technical Issues on the site (IE: cleanup 404 errors, redirect chains, broken images, etc.)
As mentioned earlier, Google has over 200+ algorithm signals, so the above SEO techniques only touch a fraction of them but will help the website improve the website's rankings overall on Google.
What are White Hat SEO Services?
There are many types of SEO services that a digital marketing company can offer. Some marketing companies offer SEO in a monthly fee and try to handle it all each month. Others charge for specific types of SEO such as backlinks, content creation, user experience (UX) design improvements, conversion rate optimization (CRO), etc. So make sure you understand what you are purchasing and how this will fit in your digital marketing plan for your website.
The other most important part is that the SEO being performed on the website is white hat. This means no deceptive tricks and tactics for Google and users visiting your website. You should follow Google's General Guidelines and continue improving your website for your targeted users. Continue improving the UX, content, and technical aspects of your website. White hat SEO services is an ongoing process and will benefit your business in the long run for growth and survival.
Stay Away from Black Hat SEO Techniques
Just say no to spam.
Google likes to call this "Black Hat Webspam" so the meaning can further separate itself from email spam. Some of the most common blackhat techniques are keyword stuffing and link schemes. There is a thriving number of digital marketing agencies that still use these tactics, and they may work for a few months. However, Google will catch up and penalize your website. Whether it is a manual action penalty or an algorithmic penalty, it will wreak havoc on your SEO efforts.
Black Hat SEO tactics are a short-term effort because they never work long-term. Over the years, Google has continuously caught spammers and devalued their websites. This is why white hat SEO is a much better approach to growing your online marketing visibility. If you are approached by a marketing sales rep that is promising rankings, traffic, and link purchasing tactics, DO NOT DO IT. It will destroy all of your hard work. We have removed dozens of penalties (manual and algorithmic) on websites that cheated Google. From our experience, you will get caught by Google and other search engines. A webspam team performs search quality reviews on SERPs and these spam sites do not last long. So change your strategy today to white hat SEO.
Improving Rankings with White Hat SEO
One of the major benefits of white hat SEO is the search engine rankings that come with it. If the effort has been put in with SEO optimization of the website, the organic rankings that improve over time tend to stick for a long time. Over the past 20 years of watching websites rise and fall, the best type of site to have is a high-quality one. A site that has performed many of the white hat techniques mentioned above, and is better than their competition in terms of content, UX, on-page SEO, technical SEO, growth in quality backlinks, and hitting high scores with Google's E-A-T scoring in their Search Quality Evaluator Guidelines.
Below is a yearly snapshot of a client that has improved over the years with strictly white-hat SEO. Google Rankings tracked from January 2017 to July 2020.

Improving Organic Search Traffic with White Hat SEO
High rankings earned on keywords with good monthly search activity rates will yield more organic search traffic from Google, Bing, and other search engines.
If you rank on page 1 on Google, you can expect the estimated Click-Through-Rate (CTR) behavior to occur. Your mileage may vary from different search terms and by industry.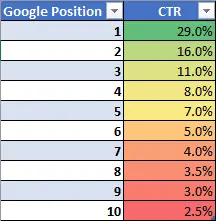 With a solid white hat SEO service and technique being implemented, you can expect the following case studies to happen. Some of these SEO strategies take years to develop, then take off with higher rankings and traffic.

If you put in the hard work in your industry, Google will reward your site with relevant traffic driven to it. Each industry and niche is different, so you have to also be aware of how competitive your market is.
Just make sure you do your research on the white hat SEO company you are going to select for your business. It's the difference between success and failure. And nobody wants to be a spammer in SEO.