Content Creation Services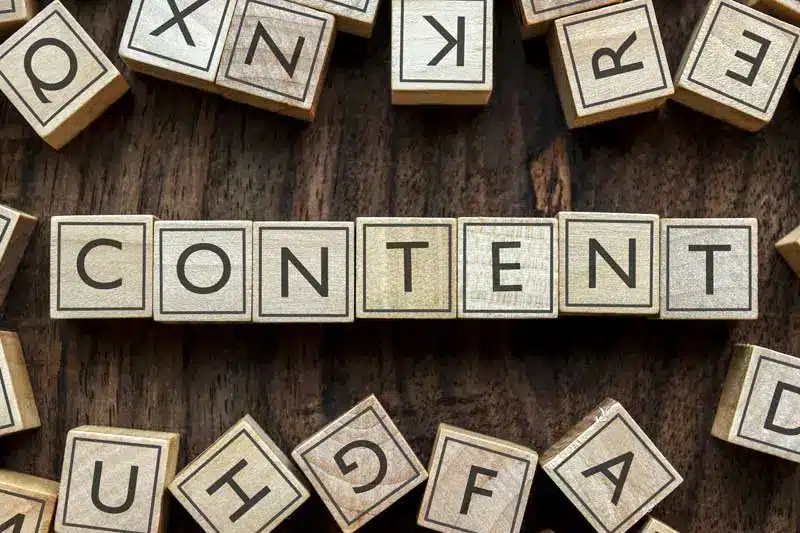 Content Creation Services
Content creation can be an overwhelming process.  Whether you're a seasoned marketer or new to content marketing, it takes a lot of work to produce high-quality content that supports your marketing goals.
But, with the right knowledge, tools, and team, anyone can produce exceptional content.
Since content creation can involve a wide range of content types and marketing best practices, we've outlined the process below, along with the team members required to get the job done.
Learn what it takes to produce on-brand, on-schedule, high-quality content that reaches your target audience.
What is Content Creation?
Content creation is the process of writing, designing, and producing strategy-driven content pieces for online distribution channels.
The creation process looks different depending on the type of content you're creating and your team. For the sake of consistency, we know that most content types are either visuals (video and infographics) or written content (such as webpages, blog posts, e-books, and white papers). But both types of content usually begin with words on a page.
When the strategy is ready and documented, the creation process begins and includes prep, writing, design, and optimization.
Successful content creation requires the right team of professionals, including an SEO content writer, subject matter expert, editor, designer, and SEO analyst.
An experienced web content writer communicates your message in your brand voice and tone while also keeping in mind SEO best practices. Sometimes, the writer is also the subject matter expert, but this is rarely the case. (More on subject matter experts below).
Content writers will love the following resources and tools:
SEMRush
Ahrefs
AP Stylebook
Hemingway Editor
Grammerly
Readability Test by WebFX
There's no substitute for a good editor who can proofread and polish content to perfection. Editors might appreciate Grammarly.
Since most online content has a visual element, always have a talented designer on your team, especially a professional specializing in web design and data visualization.
While an SEO content writer understands on-page SEO, an SEO analyst can ensure content is optimized correctly and follows your overall digital marketing strategy. Also, an analyst will be responsible for tracking content performance and extracting insight to improve the process.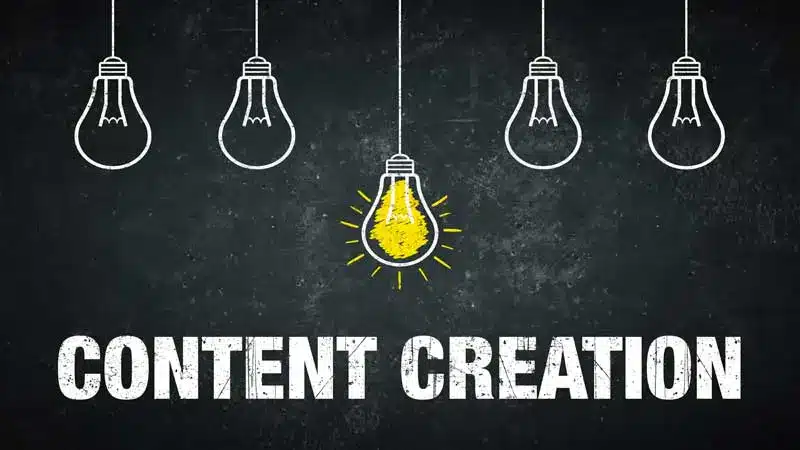 As mentioned above, you need a documented content strategy before the content creation process. In the strategy phase, you've identified the type of content you'll be making, the target audience, the target stage in the buyer's journey, and the marketing goals you hope to achieve.
With these in mind, you can now plan for the content creation process by coming up with the story you want to tell and organizing everything in a proper editorial calendar.
Starting with keyword research, a content writer can develop topics for the content you want to produce. If the task is to write blog posts, they will use targeted primary keywords to generate topics and turn those topics into headlines. With a topic and headline in mind, they can then use secondary keywords to outline the blog post.
There are many approaches to keyword research and many keyword research tools you can use to better understand the way people use searches to find products and services.
However, there is more to content creation than selecting the right keywords and topic. Depending on the content type, you'll also need to determine the appropriate word count and the kind of information on the page if you want it to rank in the SERPs and beat your competitors. If you're writing an educational page, for example, will you need high-level information or an in-depth article about the topic? A knowledgeable SEO content writer can use tools or manual research to determine these factors.
It's essential to get approval for the selected topics from the proper stakeholders.
An editorial calendar is a way to organize the content creation process for your company. It's also the primary way to keep your content on track.
Think about how often you want to publish and create your calendar accordingly. You might want to post daily, weekly, monthly, or every six months, but stay consistent. Remember, quality is more important than quantity.
While your strategy will determine the number of pieces you need for a specific campaign, an editorial calendar will give you a snapshot of the production cycle as well as what your editorial workflow looks like.
A basic editorial calendar can be made using excel or any calendar tool such as CoSchedule. We recommend listing the due date, publication date, title, format, author, keywords, CTA, status, and notes.
Tailor your editorial calendar to your company's needs. Will your copy go through an SEO check? Add a column for that. Does it need approval for topics? You can add a column for that, too.
A proper editorial calendar can also include an editorial workflow with the various people who need to work on each piece during the content creation process. For example, our editorial calendar consists of the writer and the SEO analyst who conducts an SEO review before publication.
Content writing for the web is a craft that blends many marketing and writing disciplines. The writing process involves topic and competitor research, writing, editing, and on-page SEO.
All good writing begins with an outline. The good news is that SEO-driven keywords are a great way to help writers craft headlines and outlines.
Once an outline is approved, the writer usually looks at the creative brief or strategy to help them understand the content's goal or purpose. They then balance that information with content writing best practices.
Topic and Competitor Research
There's a lot of content on the web, and the best way to stand out is to ensure you're writing accurate content. An experienced SEO content writer will research the topic and what the competitors are saying about the subject. Finally, they will know how to write about the topic to satisfy the user's query while also providing something unique.
Use credible sources to write content that demonstrates expertise, authority, and trustworthiness, or E-A-T. A good writer might not always be the subject matter expert, so they must have the journalistic skills required to interview the right people for the expert information they need to write content. Depending on the industry they are writing for (health, legal, financial, etc.), the topic might require a high level of E-A-T, according to Google's Search Quality Rating guidelines.
In general, an experienced SEO copywriter or content writer will consider the following:
The content format
The purpose of the page
Search query intent
Proper use of keywords and clarification words
Web and mobile-friendly writing style
Brand Writing Style – voice and tone of a brand
A brand's unique selling proposition
The desired CTA
Grammar and spelling
On-page SEO elements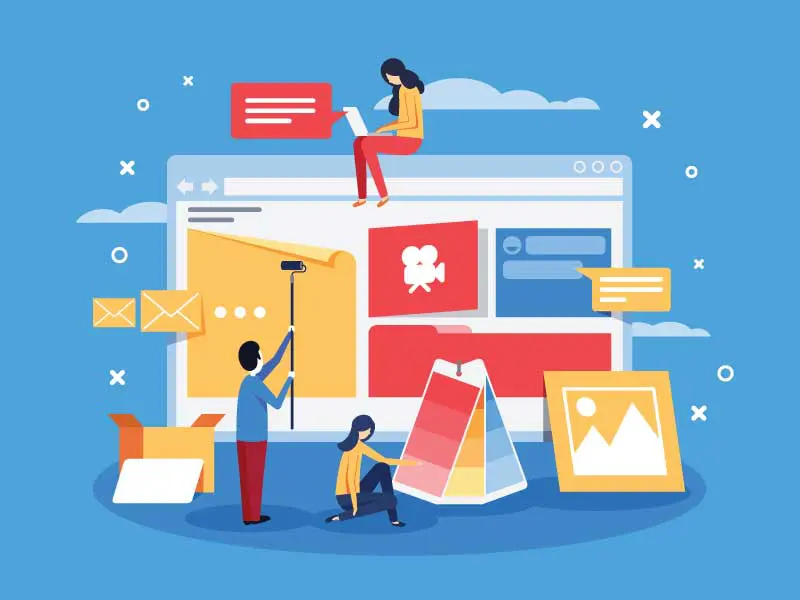 Whether you're producing visual assets or adding a design to written content, the design stage is an integral part of content creation. The right person knows design best practices and how to develop on-brand visuals. They should also know good UX, such as accessibility and designing for mobile.
Finally, there's an important SEO element to design. Content creators must always optimize videos, images, photography, infographics, and all visual assets.
Why is Content Creation Important for Websites?
Content helps to attract and retain visitors. By providing valuable and informative content, websites can engage their audience and encourage them to stay on the site longer. This can ultimately lead to increased customer loyalty and sales.
Content can help to improve search engine rankings. Search engines tend to favor websites that produce high-quality, relevant content, as this helps to demonstrate the website's expertise and authority in a particular subject area. As a result, a strong content creation strategy can help to improve a website's search engine rankings and drive more organic traffic.
Content can help to establish a website as a thought leader in its industry. By regularly producing valuable and informative content, a website can position itself as a reliable and trustworthy source of information for its target audience.
Overall, content creation is an important aspect of any website's marketing and communication efforts, as it helps to attract and retain visitors, improve search engine rankings, and establish the website as a thought leader in its industry.
Content Creation Services
Most brands struggle with content creation due to a lack of time and money. Others don't understand the process or lack the resources and infrastructure to get the job done.
At Calinetworks, we take pride in content creation. Our content writing services include research and planning, editorial calendar creation, written copy, visuals, optimization, publishing, and distribution. We can help your brand create SEO-driven content that engages, educates, and inspires your target audience.
Case Study #1: Content Marketing Growth for a Lawyer Website

Case Study #2: Content Marketing Growth for an E-Commerce Website

Case Study #3: Content Marketing Growth for an Insurance Company