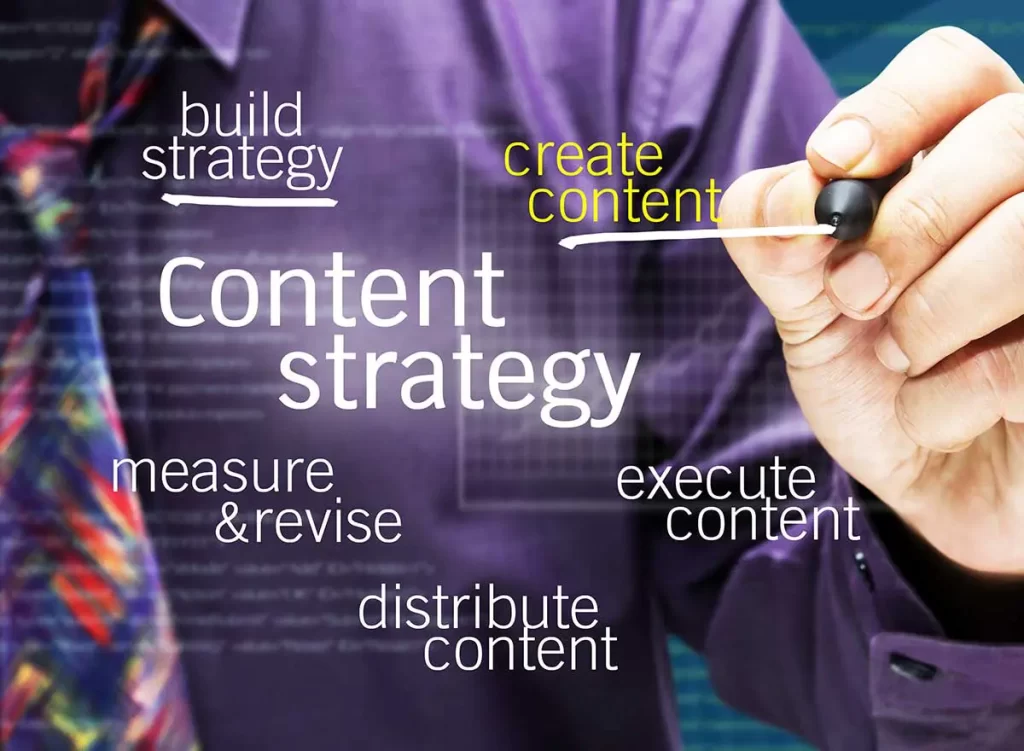 Content Strategy Services
A content strategy is a documented digital marketing plan aimed at meeting the content goals of a website. It is also the backbone of an effective SEO campaign.
Still, many marketers don't have a solid strategy, let alone a plan that is backed by research, data, and insights.
Here is an overview of content services, core specialties, and unique collaboration process.
But first, what is a content strategy exactly?
Content Strategy Explained
Since a strategy is simply a plan to develop content, strategies vary greatly depending on the type of agency and its specialties. A brand agency, for example, usually focuses on content marketing strategies designed to tell a brand story.
As a digital marketing agency, our strategies are usually natural extensions of our SEO campaigns. Even our basic SEO packages will include some type of strategy to improve your content, because text, videos, and images are the main way people engage with your brand, products, and services.
A proper content strategy is backed by research, data, and insights. It's documented, developed, and managed by our digital marketing analysts and SEO copywriters.
We understand your need to speak to stakeholders and deliver on your ROI. Search data offers a wealth of insight that can be used to develop high-quality writing for a site. The granular nature of keyword research and website analytics makes it possible for us to develop specific content strategies based on selected key performance indicators (KPIs). Common KPI's for websites and blog posts, for example, include website traffic, unique visitors, time on site, average time on page, bounce rate, page views, and so on.
Although content marketing has been around for over a decade, we still see brands make mistakes when it comes to optimizing for SEO. If increasing organic visibility is a marketing priority, you need an expert SEO analyst and an SEO copywriter on your team. Ideally, you would have had these people working with you in-house, advising best practices during the content creation process. The next best thing? Hiring an agency as an extension of your team.
Common Areas Used for Content Strategy
Some of the most popular digital marketing areas use content writing services to help build out their campaign initiatives.
SEO
Social Media
PPC
Blogs
White Papers
Press Releases
Email blasts
Location Pages
Targeted Industries
Content sharing on other websites
Why Every Website Needs an SEO Content Strategy
You want high-quality content that tells a winning story. You want to connect with your target audience and make people come back for more. But whether you are a small or large brand, quality writing requires research and planning: it requires a strategy.
An SEO content plan ensures that your brand produces original text, videos, and images that your customers and search engines will love. SEO is usually the missing piece in a traditional content marketing strategy. Understanding search data and how Google rewards or penalizes websites in the search engine results pages (SERPs) is often what makes or breaks a business online.
A powerful SEO strategy ensures that your message supports more than just brand awareness, engagement, lead generation, sales, customer retention — It ensures that your content is tied to measurable metrics that prove ROI.
Types of Content Strategies
Some content strategies are based on improving or fixing some of the on-page and technical issues that might stand in the way of either crawlers or people. This might include tweaking existing text or adding some elements on the backend of existing writing. This is why it's great to have a team that specializes in SEO content strategies, including short- and long-term plans.
Here are some of the most common strategies:
Optimizing your writing with selected primary and secondary keywords.
Improving the user experience (UX) for your content.
Optimizing with SEO best practices for text, video, and images.
Improving the quality of writing (including grammar, spelling, jargon, voice and tone, expert information, etc.).
Fixing common SEO problems:

Removing duplicate content from your site; consolidating pages or multiple pages on the same topic.
Supporting thin content with additional writing.
Providing suggestions for new pages to target.
Conversion optimization strategies.
What does a content strategy include? Whether you need to build your messaging from scratch or optimize it for search engines, it's important to include the following::
Keyword research and selection: This is a joint effort between our team and yours. We help you identify the keywords you want to rank for, and then come up with a strategy to implement those words naturally into your writing.
Website analysis, content audit, and competitor research: As analysts, we dig into the data and have the wisdom to know what to do with it. We do the work to truly review the health of your website and see how it stacks up to your competition.
SEO personas: Using search data and keyword research, our SEO copywriters can identify the people you're trying to reach and write content that they are actually looking for.
SEO Content Strategy: We present a strategy on how to fix your issues or improve your KPIs.
SEO Copywriting: Our expert writers understand SEO best practices and writing for the web. Most are journalists with experience in writing for Google's algorithms and know how to write messaging that is also tailored to a brand's voice and tone.
SEO Content Performance Reports: It's easy to measure content performance when you have a documented strategy. We provide performance reporting to show the ROI for the implemented strategies.
Key Considerations for SEO Content Strategy
At Calinetworks, we take a holistic approach to strategy, even if our goals are for search engine optimization. This means that our writers consider your brand and marketing departments and create content that's aligned with your overall business goals. The result is a data-informed plan without any blind spots.
With over 15 years in content plans and implementation, you can trust our company to provide a winning strategy for your business.
Receive a Data-Informed Content Strategy
Do you need experienced, fresh eyes to audit your content? We can identify your strengths, weaknesses, and opportunities to create a plan that's tied to measurable metrics. We can also help execute and monitor your plan as a supportive team, proving your ROI in front of your boss. Contact a strategy expert today to discuss your goals at 805-409-7700 and grow your business with exceptional content.
What is Content Strategy?
Content strategy is the planning, development, and management of content—often for digital media. It involves aligning content with business goals and defining content needs, determining the resources to create the content, and creating a content calendar to ensure a consistent flow of information to your audience. A content strategy is an important part of the overall marketing and communication efforts of a business. It helps ensure that content is created in a consistent, organized manner and is aligned with the business's goals and objectives. In addition to planning and managing content, a content strategist also helps to identify the target audience for the content and develop strategies for reaching and engaging that audience.
Content Strategy Digital Marketing Services
At Calinetworks, we specialize in custom content marketing strategy and implementation services. With over 15 years of experience, we work with your team to understand your challenges, analyze your site, and develop a data-driven plan that achieves your specific goals.
Case Study #1: Content Strategy Growth for an Insurance Company

Case Study #2: Content Strategy Growth for a Lawyer Website

Case Study #3: Content Strategy Growth for an E-Commerce Website