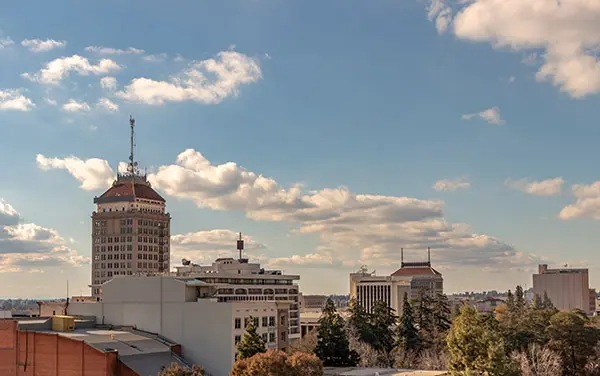 Fresno Search Engine Optimization (SEO) can help your California business generate more leads, traffic, and revenue from your website. Google, Bing, and Yahoo see billions of daily queries, and SEO can improve your site's ability to rank better among these search results, leading to significantly higher visibility with potential customers and leads flowing into the pipeline. This type of digital marketing has become common among modern companies and involves services such as: Search Engine Optimization, Pay Per Click (PPC ads), content development, and social media management.
Digital Marketing Services in Fresno, CA
SEO (Search Engine Optimization) – Getting your site to rank better on search engines has become one of the best strategies for growing your company in the digital era. The top-ranking websites are able to capture close to 60% of users for most queries, so ranking in the top 3 for keywords with high search volume can have a major impact on your brand visibility, and ultimately, your bottom line. Optimizing a site to rank better on search engines involves steps such as: Keyword Research, Competitor Analysis, Content Planning, and Implementation, Back-link Audits, On-Page Optimization, Web Design or Redesign, Analytics and SEO Reporting.
PPC (Pay-Per-Click Marketing) – Paid ad placements on search engines can purchased through auction and appear above organic results in many queries. An experienced team of ad copywriters can help you build successful PPC campaigns by A/B testing different sets of: ad media such as images & videos, ad copy, maximum bid prices, and geo-targeting locations to find the best audiences. Pay-Per-Click advertising affects website performance in a complimentary way to SEO and can be done together.
Social Media Services – Building your business profile on large social platforms such as Facebook, Twitter, Instagram, LinkedIn, Pinterest, Google GMB, Yelp, and TikTok can give your business more brand awareness & a better chance to connect with potential customers on a direct level. Millions of users are actively browsing content on these sites every day. A social media management package can increase your brand's social presence, leading to more traffic for your site both directly & indirectly.
Link Building – Back-links are one of the most important factors for well a site can rank organically on search engines. Earning links from other trustworthy sites shows search engines that your site may be more trustworthy, and this affects site's organic performance in nearly every aspect. Back-links should never be purchased or acquired through black hat techniques as this can have permanent, negative effects on a site's ability to rank. Google's handbook states that these links should be earned by creating high-quality content that is valuable enough for other sites to link to, and a professional SEO content team can help you achieve this.
Web Design Services – Web design or redesign services can alter a site's look & feel while improving it's ability to rank in search results. An experienced designer can improve your site with: updated images & logos, a modernized & easy to use navigation menu, improved brand awareness, faster page load speed, and a responsive design that is able to scale for tablet, mobile, and desktop users.
Analytics for Websites – Analytics can reveal where a site's performance is lacking and how it can be improved. An SEO expert uses data from the site's traffic, user patterns, and keyword rankings to understand where the greatest weaknesses lie. This processes looks at the Click-Through-Rate, Dwell Time, Conversions, Bounce Rates, and other key performance metrics to find valuable insights.
Wikipedia Entry – A Wikipedia page can increase your website's link equity, credibility, search engine visibility, and traffic. Wiki articles must adhere to strict guidelines for publishing, but an experienced writer can help you write your article content and support it with credible sources so that it may have a better chance of passing the test.
ADA Compliance – Website owners are being held liable for their sites being unfriendly to disabled users. Building your site content to comply with WCAG AA 2.0 standards can make your site more ADA compliant and lessen the chance your business will be the target of an ADA-based lawsuit. An experienced Fresno SEO team can can make your site more compliant & give it an extra layer of protection against these lawsuits.
Search Engine Optimization
Improve keyword rankings and organic search traffic. Get more leads through SEO.
Competitor Research and Analysis
Improve keyword rankings and organic search traffic. Get more leads through SEO.
Keyword Discovery and Selection
Social Media Management Services
Grow your social media, engage with new customers, increase lead gen.
Facebook, Instagram, Twitter, LinkedIn, Pinterest, YouTube

Daily/Weekly Social Media Posts

Targeted Marketing with Ads

Monitoring Social Media Comments
Create a content strategy that works. Copywriting and content creation services.
Webpage Content Structure
Create a new website or upgrade your current site.
Website Maintenance Services

Responsive Design Layouts

WordPress Design and Templates

E-Commerce Solutions / Shopping

Custom Forms for Lead Gen.
Get Managed Website Hosting Services. Fast, Reliable, with a Human to talk to in the USA.
16 CPU Cores, 32 GB RAM, Custom Storage

High Performance SSD Servers

Cloud Setup and Configuration
Americans with Disabilities Act Compliance
Get your website ADA compliant with WCAG 2.1 AA standards
ADA Compliance for WCAG 2.1 AA

Web Accessibility Compliance Audit

3rd Party Widget for ADA Compliance

Section 508 WCAG 2.1 Level AA Compliant

ADA Website Plugins for Management
Need Custom Consulting for Digital Marketing?
We offer custom packages for customers with the needs that have for their websites.
Analytics Audit and Review

Website Cleanup and Optimization

Conversion Optimization Review

Improve Website SiteSpeed
*If there are any questions about specific services, please contact us.
Case Studies for Fresno SEO Services
SEO Case Study #1 – Insurance Company

SEO Case Study #2 – E-Commerce Site

SEO Case Study #3 – Legal Website

SEO Case Study #4 – Automotive Website

How Important is Fresno SEO for My Business?
A majority of online purchases start from a search engine, so SEO has become a critical pipeline for generating more business in the online age. Search Engine Optimization is a scalable marketing service that works for businesses of all sizes & across nearly all industries. California SEO experts can build your plan to get the most out of your site in 2020.
How Long Does the SEO Process Take?
SEO takes a varying amount of time that depends on how large a site is and how deep its performance issues are. Google uses over 200 constantly changing factors in their algorithms to determine how sites rank in search results, so sites that want to consistently rank well have to constantly work on their SEO to stay ahead of the curve. A general Search Engine Optimization package can take anywhere from weeks to months to finish the work & see the results.
Should My Site Content Be Written Specifically For SEO Ranking?
Yes, website content should always be designed with good SEO principles in mind. Your site's content should aim to create a unique user experience with original writing. Quality SEO content includes a good density of high-volume keywords while engaging users with valuable information or compelling products. A Fresno SEO package can give your digital storefront better visibility for less. Contact an expert at CaliNetworks today or fill out the form below to get started. (805) 409-7700