Digital Marketing Agency in Thousand Oaks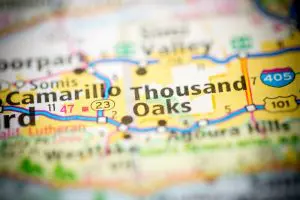 Whether you provide a product or service, having a well-built website is like moving your storefront to the busiest street in the city. Effective improvement of the sales of your business can be driven by experts in Search Engine Optimization (SEO), which is a set of techniques and strategies employed by many businesses to grow the organic search traffic received from various search engines. If your site does not appear in the top 10 on search engine results pages, SEO can yield unreal growth in: overall organic search traffic, lead to higher conversion rates, and more leads generated from your business website.
Increase Traffic to your Website
For over 20 years, we have employed a proven expertise and methodology at CaliNetworks that gives our clients a quantifiable advantage in traffic gains over local competitors in Thousand Oaks and California. Our strategy involves increasing the visibility of your website by improving keywords rankings on Google, Bing, and Yahoo which dominate a majority of search engine traffic. Our team of expert SEO analysts thrive on the challenges of creating a unique website for each and every one of our clients with our main goal of increasing traffic to your website with high-quality users and leads.
Our monthly SEO packages are custom designed to fit the hourly needs and advertising budget of businesses of all sizes and include:
SEO Monthly Hours at varying rates depending on the volume and work required
10 hours/month minimum (Perfect for small businesses looking for large improvements)
20/25/30/40/50 hours/month. (Medium to Large Corporate Businesses looking for growth)
Conference Calls are available for consultation and discussion of the results of SEO in traffic and rankings
Monthly/Weekly SEO full audits available
Enterprise-level expert SEO & PPC services that can drastically increase the traffic to your site
Find a plan that best fits your monthly advertising budget and Thousand Oaks target audience at CaliNetworks today (805) 409-7700
Even if you do not have a current website, below is an example of a client that started from the ground up with a new website. With a strong SEO project plan and continuous monthly work being completed, we were able to grow organic search traffic and organic rankings on Google to where it is now.
Organic Traffic and Organic Keyword Rankings: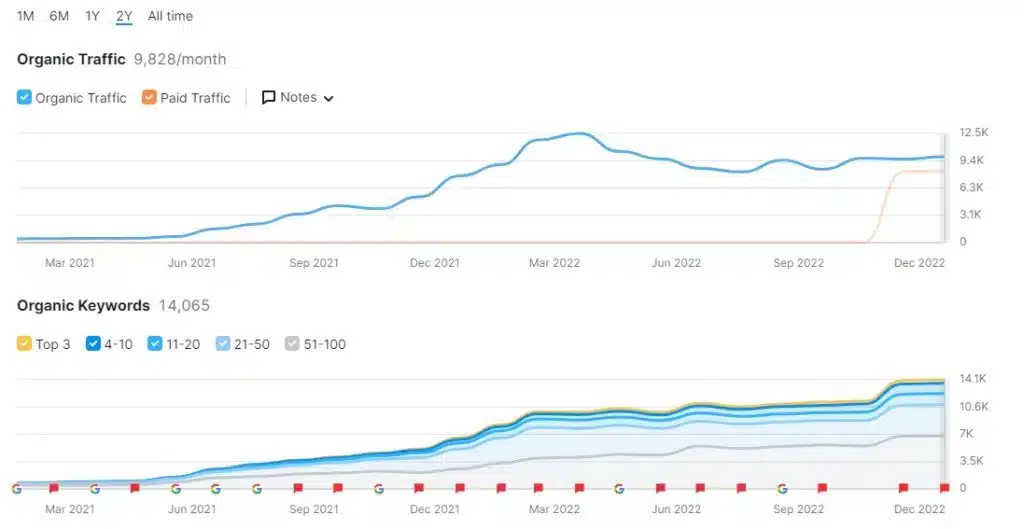 Business Success with Digital Marketing in Thousand Oaks
For Thousand Oaks businesses, our goal is to help you grow the traffic and visibility of your website and business. We are a small digital marketing firm that has worked to provide a mutually beneficial business partnership with many Thousand Oaks businesses since 2001. Our experiences working in the industry for over 20 years have taught us how to properly construct an advertising strategy that can yield success for target audiences in Thousand Oaks, California.
Don't be satisfied with your website until it generates the leads and sales your business deserves! The SEO Analysts at CaliNetworks have the experience needed to help you receive double or triple the amount of organic search traffic to your website in under a year. We are a small, focused marketing firm that will never put your site on the back burner because your success is vital to our success. Give us a call today for a free quote on Digital Marketing services for Thousand Oaks business at (805) 409-7700. Visit our locations page to see all the locations that we geo-target for SEO, or browse our California locations page.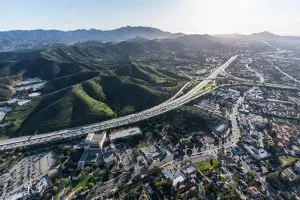 Why does my Business in Thousand Oaks need SEO?
There are several reasons why a business in Thousand Oaks might benefit from SEO:
SEO can help to increase the visibility of your business in search results, which can lead to an increase in foot traffic and sales.
SEO can help to establish your business as a credible and authoritative source of information in the Thousand Oaks community.
It can help to improve the user experience for customers who are searching for businesses like yours in the Thousand Oaks area.
It can be an effective way to target specific geographic areas and reach customers who are most likely to be interested in your products or services.
Overall, SEO can be a powerful tool for businesses in Thousand Oaks that want to attract and retain customers in the local area. By optimizing your website and online presence for local search, you can increase the chances that potential customers will find and engage with your business.
$1,850 / month Starting Price
"Basic" SEO Package that will help get your site started with Search Engine Optimization services.
Up to 10 hours of SEO Services per month

Track up to 10 keywords per month

Monthly organic search traffic report

SEO project guidance services

SEO Consulting Services, Q&A
Agency Level SEO for Small Businesses
"Premier " SEO Services – Get rankings and organic search traffic faster with a step up for SEO.
Monthly SEO Services Plan

Track up to 20 keywords per month

Monthly organic search traffic report

SEO Project Management Plan

1-2 pages of content per month
Full Service SEO for Large Websites
"Gold" SEO Services – Our Top SEO Plan to rapidly boost your SEO efforts for marketing.
Monthly SEO Services Plan

Track up to 40 keywords per month

Monthly organic search traffic report

SEO Project Management Plan

2-4 pages of content per month
Why is SEO important for your Business?
Search Engine Optimization (SEO) is important for your business online because it can help improve rankings and increase the visibility of your site in Search Engine Results Pages (SERPs). Your website is more likely to be seen by users online when a website ranks higher in the SERPs. This can lead to an increase in organic traffic and potentially more leads and customers. With Google's Search Engine being the main focus for improving rankings and increasing organic traffic.
We have included a few SEO case studies from our client's performance with our SEO services. Our case studies can be a valuable way to learn about how other businesses have used search engine optimization (SEO) to improve their online presence and drive additional traffic to their website.
1. SEO Case Study – Law Firm Website
Sessions INCREASED 2021 versus 2020


2. SEO Case Study – Construction Company Website
Sessions INCREASED 2021 versus 2020


3. SEO Case Study – Dental Office
Sessions INCREASED 2021 versus 2020


Trained and Experienced Search Engine Optimization (SEO) Services