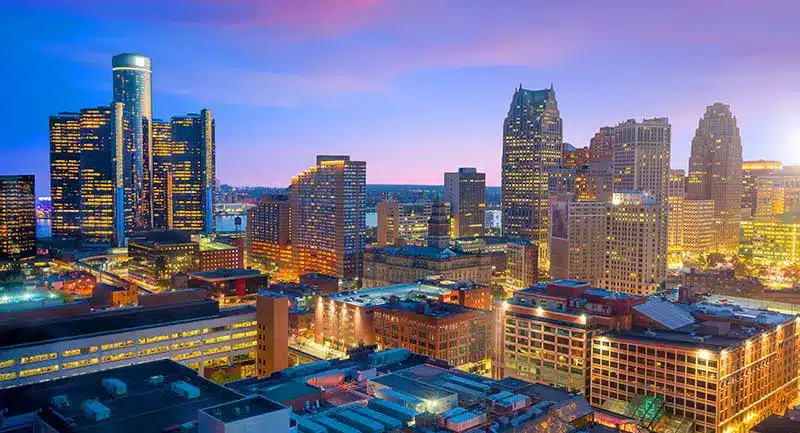 Grow Your Business with Michigan Digital Marketing Services
Search Engine Optimization (SEO) is a digital marketing service that helps businesses grow by getting their site pages to rank higher in search engine results. Search Engine Optimization, Pay Per Click (paid ads), social media management and content creation are digital marketing services that can get your brand in front of more customers for less than traditional advertising channels. A well-optimized website can help more potential customers see your content & find interest in what your business has to offer. Let us help you build a digital marketing package that will fit your company's marketing budget and goals for 2020.
Digital Marketing in Michigan
SEO (Search Engine Optimization) – The SEO process can give valuable insight as to where the site is in most need of improvement. SEO includes: Competitor Analysis, Analytics and SEO Reporting, Content Planning and Implementation, Keyword Research, On-Page Optimization, Web Design for Mobile Optimization, and Backlink Audits.
PPC (Pay Per Click Advertising) – Cost Per Click (CPC) advertising allows webmasters to pay to get search engine traffic to their site. CPC guarantees at least some site traffic, but to really fine turn your return, it helps to have decades of experience with using the right keywords, demographics, and budgets for these types of campaigns. Contact a PPC expert today to get help in understanding how to build & manage an effective ad campaign for your site.
Social Media Services – Social media has grown to an astonishing height with billions of users accessing these platforms each month. Whether you're looking to drive leads to your site or just do damage control with your fans, social media can be a great place to advertise your ideas or interact with the loyal followers of your brand. With a little daily effort, every business can grow their following & get more out of their social media profiles for free. Platforms such as Facebook, Instagram, LinkedIn, Twitter, YouTube, Pinterest, Google GMB, Yelp, and TikTok allow you to engage with consumers of your brand on a personal level, create highly-targeted ad campaigns for specific audiences, and keep your followers in the loop with updates about your company & products. Even if you don't plan on advertising on social media, it is always a solid idea to at least maintain a business profile & make weekly posts on Facebook, LinkedIn and Instagram.
Link Building – Nearly all of the top-ranking sites on Google have a healthy profile of trusted backlinks. Link building is the process used to legally acquire links from other sites, as opposed to buying them (against Google's user agreement) which can get your site removed from Google's search index altogether. This process mostly involves . Researching where competitors get their backlinks can give you an idea of where to start with this process.
ADA Compliance – ADA Compliance is an important topic for all business with a website. Without warning, more and more small business websites are getting hit with ADA compliance lawsuits in 2020. To stay within compliance standards, all sites should adhere to WCAG 2.0 AA standards. Our experienced team of ADA specialists at CaliNetworks can help bring your site back within compliance in a matter of weeks.
Web Design Services – Giving your website a facelift with a redesign package can improve its user friendliness, page speed, and visual appeal. Reshaping the site can also improve upon navigational elements, provide updated image file sizes & new brand logos, make the user interface more responsive for users on all devices, and give your site a customized look that suits the modern feel of your business.
Analytics for Websites – Website analytics is used to understand pinpoint exactly how a website's performance can be improved. The analytics process involves researching the Rankings, Traffic, Conversions, and Bounce Rates that the domain is currently getting and diagnosing the technical flaws from an SEO perspective. From there, a project plan can be formed to outline where the marketing efforts should be focused to make the biggest impact down the line.
Wikipedia Entry – Looking to have your own Wikipedia entry? Find out what is needed to get a valid Wiki entry & get an estimate for how much it would cost today.
Michigan SEO Services by City
Search Engine Optimization
Improve keyword rankings and organic search traffic. Get more leads through SEO.
Competitor Research and Analysis
Improve keyword rankings and organic search traffic. Get more leads through SEO.
Keyword Discovery and Selection
Social Media Management Services
Grow your social media, engage with new customers, increase lead gen.
Facebook, Instagram, Twitter, LinkedIn, Pinterest, YouTube

Daily/Weekly Social Media Posts

Targeted Marketing with Ads

Monitoring Social Media Comments
Create a content strategy that works. Copywriting and content creation services.
Webpage Content Structure
Create a new website or upgrade your current site.
Website Maintenance Services

Responsive Design Layouts

WordPress Design and Templates

E-Commerce Solutions / Shopping

Custom Forms for Lead Gen.
Get Managed Website Hosting Services. Fast, Reliable, with a Human to talk to in the USA.
16 CPU Cores, 32 GB RAM, Custom Storage

High Performance SSD Servers

Cloud Setup and Configuration
Americans with Disabilities Act Compliance
Get your website ADA compliant with WCAG 2.1 AA standards
ADA Compliance for WCAG 2.1 AA

Web Accessibility Compliance Audit

3rd Party Widget for ADA Compliance

Section 508 WCAG 2.1 Level AA Compliant

ADA Website Plugins for Management
Need Custom Consulting for Digital Marketing?
We offer custom packages for customers with the needs that have for their websites.
Analytics Audit and Review

Website Cleanup and Optimization

Conversion Optimization Review

Improve Website SiteSpeed
*If there are any questions about specific services, please contact us.
Case Studies for Michigan SEO Services
SEO Case Study #1 – Insurance Company

SEO Case Study #2 – E-Commerce Site

SEO Case Study #3 – Legal Website

SEO Case Study #4 – Automotive Website

Why is SEO important to rank for keywords in Michigan?
SEO gives your business the opportunity to take part in the greatest marketing platform ever created – the internet. It is estimated that Google sees upwards of 40,000 queries every second, wouldn't you like to get a piece of that pie? Rather than paying for visitors with PPC, SEO can help you create a successful online brand for a fraction of the cost. Keywords can cost over $100+ per click for paid advertising in some highly competitive industries. On the other hand, optimizing your website to rank well organically on search engines can yield a huge number of leads for your business for essentially free. The difference between ranking #1 and #3 for even a single high-volume keyword could be millions of dollars in sales. Give us a call at (805) 409-77700 or send us a message at sales@calinetworks.com to speak with someone who can help you meet your marketing goals for 2020.
How long does it take for Search Engine Optimization to work?
Search Engine Optimization is often looked at as more of a distance race rather than a sprint. It typically takes between 1-6 months to experience the benefits from a successful SEO campaign. For Google search rankings, there are over 200 factors that are used to rank websites on their search engine and updates to these factors are made daily. So, it is important to not only build your site with SEO principles in mind, but to keep it updated with the best SEO practices of the digital marketing industry as they evolve. If you want to see results down the line in 2020, the best time to start reaching for new heights is now. An experienced marketing team can help you focus your efforts in the right direction.
Should I build content on my website for SEO?
Every business that wants to rank well for organic search should have a content strategy in place that involves updating current content & building out new pages. Regardless of whether it's e-commerce pages or blog posts being created, it is always to ensure that the content is written for the user and not for search engines. Well-written content offers unique value to users, not just keyword stuffing for search engine crawlers. The best user experience gives visitors the exact answers they are looking for, and this what you should be aiming to create with the content of your site.