Google's broad core update started rolling out on March 15, 2023 (Wednesday) and should complete around March 29, 2023 (1-2 week rollout). The Google broad core update was launched on March 15, 2023, at around 7:30 am PST, and it will take approximately one to two weeks to roll out, impacting all regions and languages around the globe.
Unlike an algorithmic penalty, this Google core update promotes or rewards great web pages and looks at all types of content. Google has not disclosed the percentage of queries or searches that will be affected by this update. However, it appears to be a typical core update with a wide-reaching impact that is fast.
It's important to note that core updates impact Google Discover and other features, including feature snippets, etc. If you've been affected by this update, you will need to evaluate your content and take Google's core update advice to make improvements.
See below for references on Google Search's core updates:
Additionally, Google will periodically refresh its search algorithm, although it may not always communicate these updates in the future. This may explain the recent unconfirmed Google updates we've seen in the past couple of weeks.
SEMRush Sensor and SERP Volatility for Google's Core Update March, 2023
Below you can see a screenshot of the SEMRush Sensor for SERP Volatility for the past 30 days: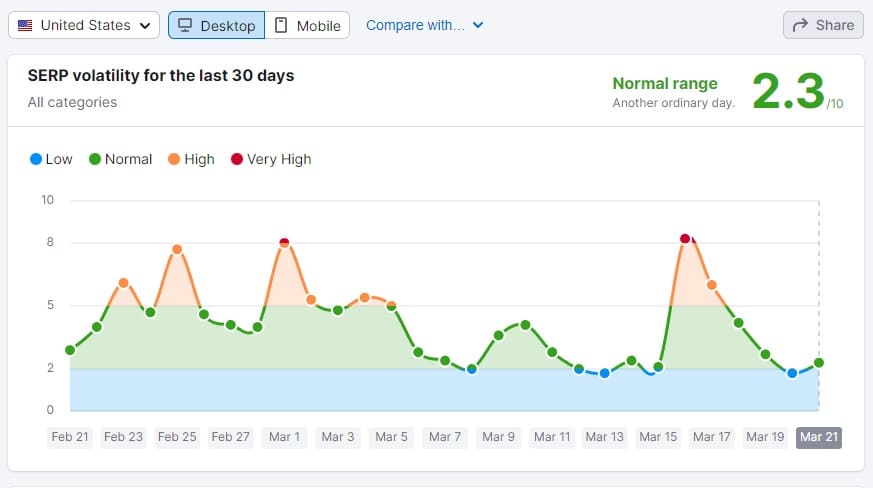 You can also view a live SERP volatility from the SEMRush Sensor below:
What should I do if Google's core update for March 2023 has negatively impacted my website's rankings and traffic?
If your website's SEO rankings and organic traffic have been negatively impacted by a Google core update, there are several steps you can take to address the situation:
Wait for the Google core update to complete: Do not make any major changes on your website until the Google Core update is completed. Once completed, you can begin your analysis.
Evaluate the damage: Analyze your website's organic traffic and rankings before and after the update to determine the extent of the impact. You can use Google Analytics, Google Search Console, and other SEO tools to track these changes.
Understand the update: Try to learn as much as possible about the core update, including its focus and the changes it introduced to Google's ranking algorithm. This will help you identify the areas where your site may have fallen short.
Make improvements: Once you've identified the areas of your site that need improvement, work on making changes to improve the quality of your content and user experience. Focus on creating high-quality, valuable content that meets the needs of your target audience, and make sure your site is easy to navigate and provides a good user experience.
Monitor your progress: Keep track of your site's performance over time to see how your changes are affecting your rankings and traffic. Use analytics tools to track changes in traffic and conversions and make adjustments as needed.
Be patient: It can take time to see improvements in your rankings and traffic, especially after a major update. Be patient and continue to work on improving your site's quality and user experience over time.
Consider seeking professional help: If you're not confident in your ability to make the necessary changes or if you need additional guidance, consider hiring a professional SEO consultant or agency to help you navigate the process. They can provide you with an SEO audit and develop a customized strategy to improve your site's rankings and traffic.
Google regularly updates its algorithm to improve the search experience for its users. These updates can significantly impact website rankings and traffic, and they are typically classified as either core updates or smaller, more focused updates. The Google March 2023 update is a broad core update and impacts all websites across the web globally.
After 13 Days, the Google Core Update for March 2023 is Complete
After a Google Core update has finished rolling out, it's crucial to analyze your website's performance and take steps to improve your SEO strategy. Below are a few tips to help you make the most of the update:
Review Your Analytics – Look at your website's organic traffic and see if there have been any significant changes. Look at the pages that have gained or lost organic traffic and try to identify the reasons behind the changes. You can do the same for keywords in Google Search Console.
Check your Google Organic Rankings – Use a keyword tracking tool such as SEMRush, Moz, or AHref to check your website's rankings for important keywords. If you've noticed a drop in rankings, identify the pages that have been affected and analyze them for possible issues.
Review your Content Quality – Make sure your content is high-quality, relevant, and engaging. Use tools like Google Analytics and Google Search Console to identify low-performing pages and make necessary improvements.
Optimize Your Website – Ensure that your website is optimized for search engines by including relevant keywords in your meta descriptions, titles, and headings. Also, ensure that your website's structure is user-friendly and easy to navigate.
Build High-Quality Backlinks: High-quality backlinks are still an important ranking factor. Focus on building links from authoritative websites in your industry. Review competitor backlinks and look for any opportunities that may shine.
After the Google core update, you can make the necessary improvements to your website and stay ahead of the competition. If you need help in reviewing these areas, you should consider hiring an SEO professional.