Importance of Meta Tags for SEO
The importance of title tags and meta description tags still remains high on the list for Search Engine Optimization (SEO). With Google Search Engine Result Pages (SERPs) displaying the title and meta description from your website. We should focus on what keywords you are using and the strategies you have in place to increase click-through-rate (CTR) in organic search.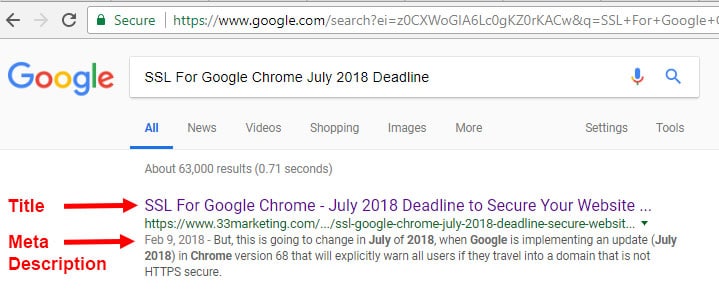 When we look at keyword rankings for a specific keyword, it's important to note that the position plays a significant role in click-through rate (CTR). Likewise, if you have a very well thought out and engaging title tag and meta description tag, you can potentially increase the CTR of the keyword phrase. By improving your CTR, you can in effect increase your rankings and website's organic search traffic. If your meta tags are not engaging and nobody clicks on your SERP, then you will most likely see your organic search traffic decrease over time.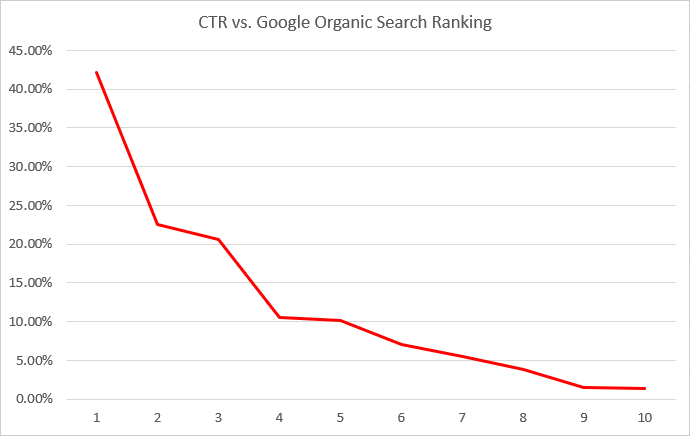 Below is a Google Search Console sample of data with Click Through Rate (CTR) vs. Ranking Position in Google Organic Search.
| | | | | |
| --- | --- | --- | --- | --- |
| Keyword | Position | CTR | Clicks | Impress. |
| Sample 1 | 1 | 42.21% | 10,674 | 25,286 |
| Sample 2 | 2 | 22.51% | 1,795 | 7,974 |
| Sample 3 | 3 | 20.57% | 1,930 | 9,381 |
| Sample 4 | 4 | 10.55% | 1,096 | 10,384 |
| Sample 5 | 5 | 10.18% | 999 | 9,811 |
| Sample 6 | 6 | 7.04% | 465 | 6,605 |
| Sample 7 | 7 | 5.53% | 561 | 10,152 |
| Sample 8 | 8 | 3.78% | 172 | 4,549 |
| Sample 9 | 9 | 1.44% | 352 | 24,379 |
| Sample 10 | 10 | 1.37% | 133 | 9,675 |
| | | | | |
The idea here is if your keyword phrase (Sample #1) is in the #1 position on Google, the chances of someone clicking on your page is 41.21%.  If your keyword phrase is in the #7 position, then the chance of someone clicking on your page is 5.53%. By improving your Title and Description tags, you can increase the CTR by users finding your page with specific keywords and phrases in it, and clicking on your page. Google has also been known to move pages higher up in the SERP if they have a higher CTR and better on page performance.
Optimizing Title Tags
Title tags are an important factor in helping the search engines understand what the page is about. A title tag is also the first thing that a user will see when they find your page in the results. A well-written title tag can have a sizable impact on click-through rate, site visits, and conversions.

A well-written title tag should have the following qualities:
A title tag should clearly and succinctly communicate the topic of the content on the page.
Place the primary keyword you are targeting close to the beginning of the tag to achieve maximum visibility.
Each page should have its own unique title tag. Avoid sharing title tags over the whole, or parts of, your website.
Your title tag should be no longer than 70 characters (600 pixels) long. Avoid the feeling to add keywords just for the sake of stuffing your title tags.
Optimizing Description Tags
The description tag provides users and search engines a summary of what the page content is about. From Google, "Adding description meta tags to each of your pages is always a good practice in case Google cannot find a good selection of text to use in the snippet". If you have high-quality SEO content written, you should be updating your meta description tags.

A strong description meta tag has these attributes:
Like a title tag, the description should be written clearly and utilize the primary keyword close to the beginning.
Avoid generic description text and keyword stuffing.
Many times, a short description tag can have a better click-through rate. While Google recently announced that description tags will be shown up to 320 characters, that does not mean that your tag needs to be that long. Remember that a person will only look at your tag for a moment before deciding to click and move on. 160 – 300 characters (2-3 short sentences) should be a good target.
Avoid sharing description tags between pages.
What do Meta Tags look like in Google SERPs?
Increasingly, Google has tailored meta tags to match the intent of the user's query. This means that Google will bold keywords that appear in the query, shorten or rewrite titles and descriptions, or take content from the page that the bots feel better match the query and present it in the SERP. Below are a few examples of how meta tags look in search results pages.
To start, here is the first organic result for the search phrase "linen sports coat". Google has emboldened the phrase in the description, as well as shortened the title tag from "Linen Sport Coat: Shop Linen Sport Coat – Macy's". Although this meta description does a decent job of describing the product on the page and who it may appeal to, it is stuffed to the brim with the target keyword and offers very little additional information and has a weak call to action.

The next example is the top organic result for the phrase "Spicy Wing Recipes". There is a lot going on here. Along with the title and description, Google is presenting ratings information, preparation time, and calorie count. Instead of using the overlong generated tag (over 900 characters!) the page provides, Google instead presents the preparation instructions. The title tag remains the same.

In the example below, Google has once again changed the description tags to better match the search query. Google understands "how long" to mean time, and has emboldened the phrases that indicate time lengths.

Quality Meta Tags Can Make A Difference
So, with Google writing their own meta tags, does the quality of meta tags matter anymore for Search Engine Optimization? Of course, it does! Meta tags are still an important factor when Google is figuring out what a page is about! Non-optimized meta tags may be a signal of a poor-quality result. Whether you have a one-page website or a large data-driven platform, each page should have a unique meta title and description that reads naturally and clearly describes the content on the page. For more information on optimizing Title and Meta Description tags for Google rankings, check out Google's Search Engine Optimization (SEO) Starter Guide and read the section marked Help Google (and users) understand your content. You can find informative SEO information straight from Google.